World Handball: How tiny Cape Verde made history
Cape Verde's men's handball team are on a quest to make history as they head into the main round of the Men's World Handball Championship in Sweden.
The Blue Sharks begin the group stages with a match against Iceland in Group 2 at 1700 on Wednesday, having qualified out of the preliminary stages thanks to a 33-25 win over Uruguay in the opening game – despite later defeats to hosts Sweden and Brazil.
In Barely three years, Cape Verde have stormed the handball men's scene. Two participations in the African Championships both led to World qualification – the second being a run to the continental final, where they lost against Egypt in 2022.
"When we arrived in Tunisia for the African tournament in 2020, people looked down on us as if we were a youth team", said Cape Verde's Flavio Fortes, who has been an international player for a decade and who plays his domestic handball in France .
Now – with the preliminary stages negotiated – the 30-year-old is looking for more.
"Those kinds of events help to put Cape Verde on the map. Our politicians won't do it," he said.
Broken beds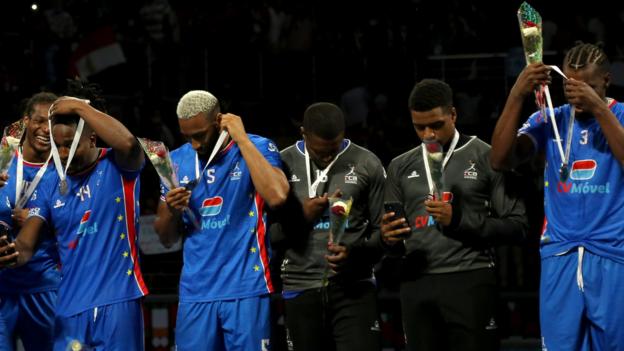 Africa's history in handball is traditionally dominated by north Africa – as can be shown by the other teams at the World Championships: Algeria, Egypt, Tunisia and Morocco.
Egypt especially are the dominant power – they are the only African team to appear in both Olympics and World Championship semi-finals. Fortes described them as being able to "play with their eyes closed; it's like a symphony."
So for the tiny island nation of Cape Verde to break through has been a massive achievement, with Fortes adding that it has happened despite a lack of both money and planning.
"Last October, while all the national teams were having training camps during the international window, we didn't," he said.
"Instead, we had barely two weeks together prior to this World Championship."
On arrival in Sweden, the players were quarantined while awaiting the outcome of Covid tests, and housed in a hotel with bunk beds – not ideal preparation for a team whose members' heights are between 1.80m and 2.05m.
"Ten minutes after our arrival, one of my teammates did just a quick jump on the bed and it was broken," Fortes explained.
"It's normal to get upset when you live these situations, or you happen to be in a place with shared showers – but after a moment we laughed. Also, it's getting better year after year."
After their match against Iceland, Cape Verde will then face Portugal, the country that controlled the archipelago until 1975. With a common language and common roots, many of the Blue Sharks currently play in the Portuguese league – or at least have in the past.
They will then play Hungary as they seek to go even further in the competition.
But Fortes Suggested that he was concerned that however far the Blue Sharks go will be the Peak of the team's Achievements for a long time, as he "can't see an new generation coming up."
"The Federation has to Invest in great professionals with long-term projects here to develop the sport, and help local coaches," he said.
"At some point, Angola hired Portuguese coaches when their economy was fine and as a result, their team was good."