US Riders Look Ahead to Cross-Country Following Completion of Dressage at Badminton
May 06, 2022
US Riders Look Ahead to Cross-Country Following Completion of Dressage at Badminton
Laura Collett and London 52 (Landos x Vernante), Olympic team gold medallists for Britain last year, snatched first place after dressage at Badminton from their Tokyo teammates Tom McEwen and Toledo De Kerser (Diamant de Semilly x Ariane Du Prieure II) with a beautiful test on Friday morning.
All three judges awarded Collett a 10, each for a different movement. Ground jury president Christian Landolt at C went first, with maximum marks for the extended trot. Seppo Laine at H gave his 10 for her halt before the rein-back, while Anne-Marie Taylor at B pressed the button for the first canter across the diagonal before the first flying change.
Such was the impression of smoothness, suppleness, and elegance that a couple of minor mistakes could not prevent the 13-year-old Holsteiner gelding, whom Laura bought out of German eventer Peter Thomsen's yard six years ago and co-owns with Keith Scott and Karen Bartlett, from rising to the top.
"It's not often you go into the arena at Badminton and have a lovely time," said a tearful Collett. "He's just so nice to ride and he was so with me. This is what we all dream of, and I'm so proud of him.
"I hold my hands up, I messed up in Tokyo [where they scored 25.8] and you can only learn from your mistakes. I haven't gone once into a dressage arena this week. We've done a lot of hacking, a lot of pole work. He knows all the moves. The little blips were my mistakes; He was totally on my side and a joy to ride. He likes showing off, he's a funny horse to ride at one-day events now because he thinks it's completely pointless, and has his ears back and is grumpy about the whole thing because he is wondering, 'Where are the crowds and the nice arena '? "
Unusually, only Collett of Friday's competitors changed the order of the top 10. McEwen and Kitty King hold on to second and third places with 23.4 and 24.8 aboard Fred and Penny Barker, Jane Inns, and Ali McEwen's 15-year-old Selle Francais Toledo De Kerser and King's own 13-year-old Selle Francais gelding Vendredi Biats (WinningMood x Liane Normande), while Mollie Summerland and the 13-year-old Hanoverian gelding Charly Van Ter Heiden (Contendros Bube x Espana) are fourth on 24.9.
The best-placed American rider is Tamie Smith, fifth with a mark of 25.3 on Alexandra and Ellen Ahern and Eric Markell's 16-year-old German Sport Horse gelding Mai Baum (Loredano 2 x Ramira).
Oliver Townend, the remaining member of Britain's gold medal-winning Olympic team, is tied for sixth on 25.7 with Paul and Diana Ridgeon's 14-year-old Irish Sport Horse gelding Swallow Springs (Chillout x Killila) with 2019 Badminton winners Piggy March and the 17-year-old Irish Sport Horse mare Vanir Kamira (Camiro de Harr Z x Fair Caledonian) owned by Trevor Dickens. Townend's 2017 Burghley hero and Tokyo partner the 15-year-old Irish Sport Horse gelding Ballaghmor Class (Courage II x Kilderry Place), owned by Karyn Shuter, Angal Hislop, and Val Ryna, is tied for eighth with a score of 25.9 in a phase he might have been expected to lead.
Townend was visibly disappointed with his mark after a mistake-free test, saying: "I'm happy with him, anyway. For me, he is twice the dressage horse of yesterday's [Swallow Springs] and he ended up with nearly the same mark. Look, that's dressage. Tomorrow is another day, thank God, and tomorrow isn't the opinions of three people sitting in garden sheds. "
Only Smith from the squad of US-based riders lies in a truly competitive position at this stage – although it is likely that Eric Winter's beefy cross-country track will cause considerable shake-ups in the order.
Phillip Dutton and the Z Partnership's 14-year-old Zangersheide gelding Z (Asca x Bellabouche) are tied for 39th on 33.2; Ariel Grald and Anne Elridge's 13-year-old Irish Sport Horse gelding Leamore Master Plan (Master Imp IHR x Ardragh Bash) are 54th on 35.4. Matthew Flynn and A. Patrick and Kathleen Flynn and Merry Go Round Farm's 13-year-old Dutch Warmblood gelding Wizzerd's score of 35.8 leaves tied him for 56th, while Lillian Heard and her 16-year-old Irish Sport Horse gelding LCC Barnaby (Guy Cavalier x Lady Tanjour) are in 68th with 37.8.
Heard shares that position with Florida-based Canadian rider Karl Slezak, who also scored 37.8 today on the 13-year-old Irish Sport Horse gelding Fernhill Wishes (Chacoa x KEC Galway Bay) who Slezak co-owns with Kirk Hoppner.
"I was very happy with him," said Slezak. He felt energetic, which is a hard thing for him because he's usually a little on the lazy side. If anything he was a little bit exuberant, especially into the first change; even in the half-passes I thought he was anticipating the change, which he doesn't normally do, but I was pleased with him. "
He discussed his decision to go to Badminton, saying: "I thought Badminton would suit him. He's not a galloper and the ground is flatter, he loves the cold temperatures. Coming from Florida to here was perfect. I wanted that temperature change. And I trust him – how often would you have a horse you can trust round jumps like this? He's a great jumper, he might stop galloping but he'll never stop jumping. "
Will Faudree and Jennifer Mosing and Sterling Silver Stables' 11-year-old Hanoverian gelding Mama's Magic Way (Mighty Magic x Straightaway) are in 74th place with a score of 38.8.
US-based Australian Dominic Schramm was philosophical about his mark of 39 – which means he is in the 75th spot – on Team Bolytair B, LLC's 16-year-old Dutch Warmblood gelding Bolytair B (Polytair x Nobelle).
"He's such a big, powerful horse," Schramm commented. "I have actually been thrilled with him. I thought we were about to go and smoke it, but as soon as I went round the short side, he started getting a hand taller and when he gets like that, I have to just keep trying to ride him and not abandon him. I'm not that disappointed. Of course, I wanted a lower score and I know he's capable of it, but at the same time you've got to ride the horse you're sitting on in the ring. It's an electric ring and I'm thrilled to be here.
"I'm really looking forward to the cross-country, that's what we've come here for. I'm really happy with the course for a couple of reasons. All the hard jumps I wanted there to be on the course are there. I didn't want to come to Badminton and not jump the Vicarage Vee, so I'm pleased about that. The other thing I like about it is that I think Eric Winter has made what he wants really straightforward. There's hard lines and big jumps, but no tricky business. There's no wondering what number of strides you're going to get, no half distances, so if you've got a brave horse and you execute it well, it's there to be jumped, and we're going to have great conditions, so I think it will be awesome, "Schramm continued.
Emily Hamel, who had knee surgery just four weeks ago, rounds off the US contingent in 77th out of the 83 starters with a mark of 39.5 on Black Flag Option, LLC's 15-year-old Holsteiner gelding Corvett (Corrido x Tina XII).
"I was just excited to be in the ring, and I tried to take it all in and also ride well," reflected Hamel. "Overall I'm pretty happy and I'm excited for tomorrow. Badminton is a completely different atmosphere to anything else we've done. There are so many spectators and it feels like a really big deal. American events feel pretty big, but this is just different. I don't know how to explain it.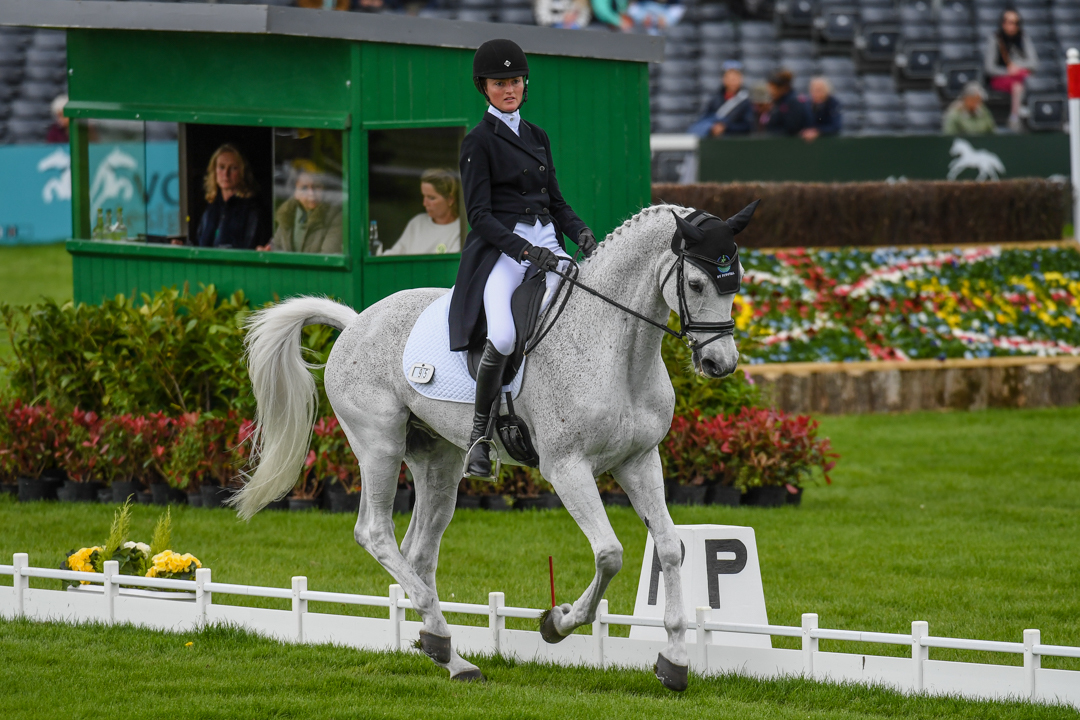 "I think the track will suit him," she said of the cross-country course. "He's bold and brave and everything seems jumpable; I just need to ride it well and if I do, I think we'll have a good time. "
Hamel is planning to stay in the UK until after Burghley in September and is based not far from Badminton with Canadian rider Mike Winter and his wife Emma. Mike was also competing at Badminton and is in 51st place with a mark of 34.6 on the 13-year-old Dutch Warmblood gelding El Mundo (Numero Uno x Calvaro's Bria Z) which he co-owns with his wife and Jonathan Nelson.
The first horse out of the start box on Saturday will be Classic VI ridden by Kirsty Chabert at 11:30 am BST / 6:30 am EST. Heard and LCC Barnaby will be the first US pair to compete with a start time of 12:14 pm BST / 7:14 am EST.
Helpful Links
Don't forget to follow the USEA event coverage on social media!
Facebook | Instagram | Twitter
.