Team-Building Activities for Celebrate International Women's Day
We can't think of a better day to strengthen your girl squad through team-building activities than International Women's Day. This year, the globally celebrated day honoring the social, economic, cultural and political achievements of women is on March 8, so there's no time like the present make plans with 2022's theme (#BreakTheBias) in mind. So, rally the women-identifying staffers in your workplace and get excited to build strong teams and friendships with these 10 team-building activities.
Archery, Ax Throwing and Air Rifles
Tucked away in the foothills of Georgia's Blue Ridge Mountains, Barnsley Resort is a 3,000-acre paradise for women looking to escape the wilderness and try something new. An adventurous all-female team can test out their aim with the resort's Barnsley Bullseye Challenge, which features archery, throwing ax and air rifles. Groups will participate in interactions and challenges to perfect their target skills alongside trained instructors. Starting at $ 150 per person, the Barnsley Bullseye Challenge is available for anywhere from 8 to 40 participants. With Barnsley Resort's Barnsley Bullseye Challenge, your girl gang can test out their aim with archery, throwing ax and air rifles set on the resort's 3,000-acre property.Photo: Hannah Lozano Photography
Forest Bathing
Nature is the perfect setting for forging friendships and rejuvenation. Minnesota offers endless opportunities to reset and experience healing in nature via forest bathing. Don't be fooled by the name – forest bathing, also known as "Shinrin-Yoku," is a traditionally Japanese practice designed to relieve stress and improve mental and physical health. The idea is that senses will bathe, figuratively speaking, in everything that a mindful nature walk has to offer — whether your team simply meanders through nature or hires a guide to lead the way.
Sharks, Shipwrecks and Stingrays
The ladies that cross items off their bucket list together, stay together – and Resorts World Bimini in Bimini, Bahamas, sets the stage for just that! Waters surrounding the expansive complex are filled with exploration opportunities. Embark on a guided tour with Bimini Blue Adventures and head out to sea, where three snorkeling spots are just a short boat ride away. Make a pit stop along the way at Triangle Rocks to swim with reef sharks, then snorkel the SS Sapona shipwreck and end the adventure at Honeymoon Harbor to hand feed the beloved local stingrays. Guided tours start at $ 97.90 per person for a two-hour adventure.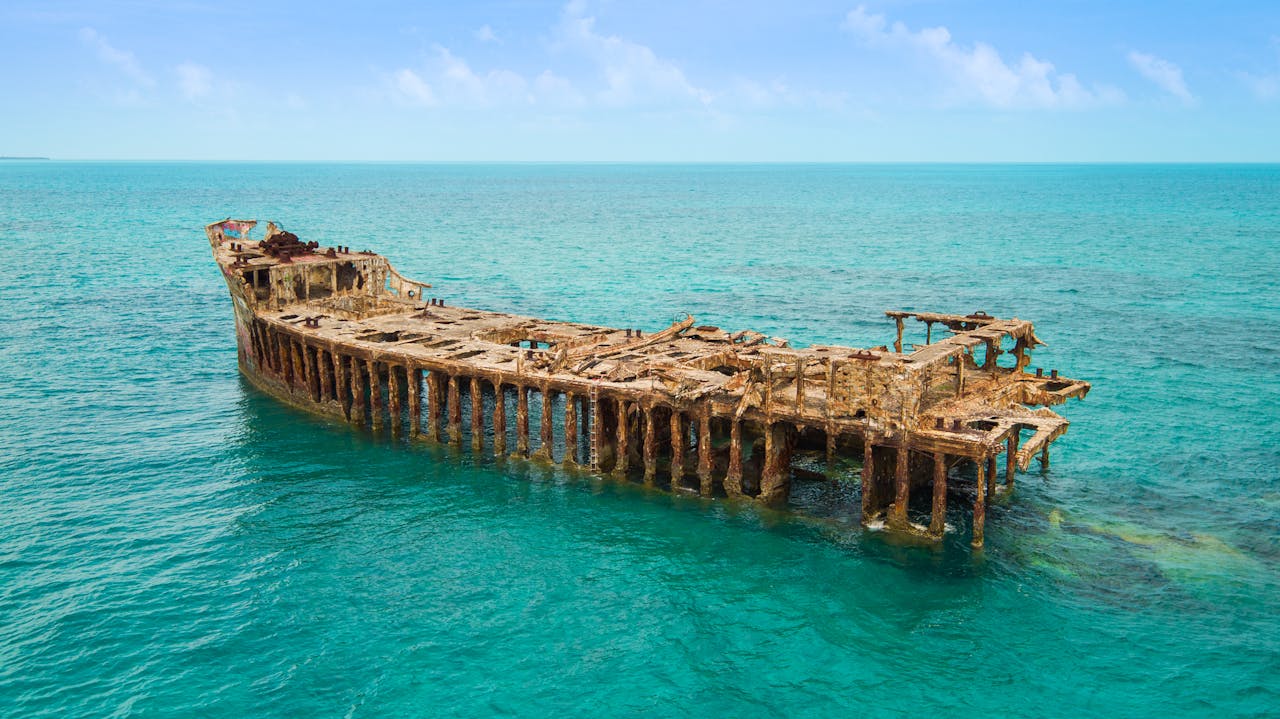 At Resorts World Bimini in the Bahamas, groups can snorkel through the SS Sapona shipwreck.Photo: Courtesy of Resorts World Bimini
Recycle and Restore
Round up the women you're looking to build stronger bonds with in your life and head to Hilton Head, where together, you can give oyster shells a second life with The Outside Foundation, which restores the mud shores of Broad Creek near the Island's Shelter Cove Marina. By rehabilitating nature with these used shells, not only will the team provide homes to over 150 species and help naturally filter the waterway's ecosystem, but it will also (hopefully) inspire the group to get creative with their own resources. The team-building activity is free and has no size limits.
Mix Like a Master
Nestled between Miami and Ft. Lauderdale, the newly-opened Hilton Adventure Miami takes gatherings up a notch, offering women an opportunity to link with libations with its "Mix Like a Master" experience. The elevated mixology class has two levels: The beginner series introduces groups to cocktail basics, like flavor components and top-line techniques, while the advanced experience is curated for more knowledgeable cocktail enthusiasts. Following the tutorial and cocktail class, your girl gang can sip, savor and enjoy a private cocktail hour at one of the hotel's premier spaces. The team-building program is available for groups of 4-45.
Create a Caribbean Chichi
In Curaçao, older sisters are affectionately called "Chichis," and the term has come to represent a strong, proud and voluptuous Caribbean woman. Local artists celebrate these familial pillars by creating Chichi dolls, or handmade, painted sculptures in vibrant colors of curvy female forms. Chichi dolls are perhaps the most common souvenirs on the island and quickly gaining more international recognition due to their body-positive and female-empowering messages. For a unique team-building exercise in honor of International Women's Day, groups can take part in a Chichi painting workshop at Serena's Art Factory in Willemstad Curaçao for $ 12 per person. Seats are limited and available on a first-come, first-served basis.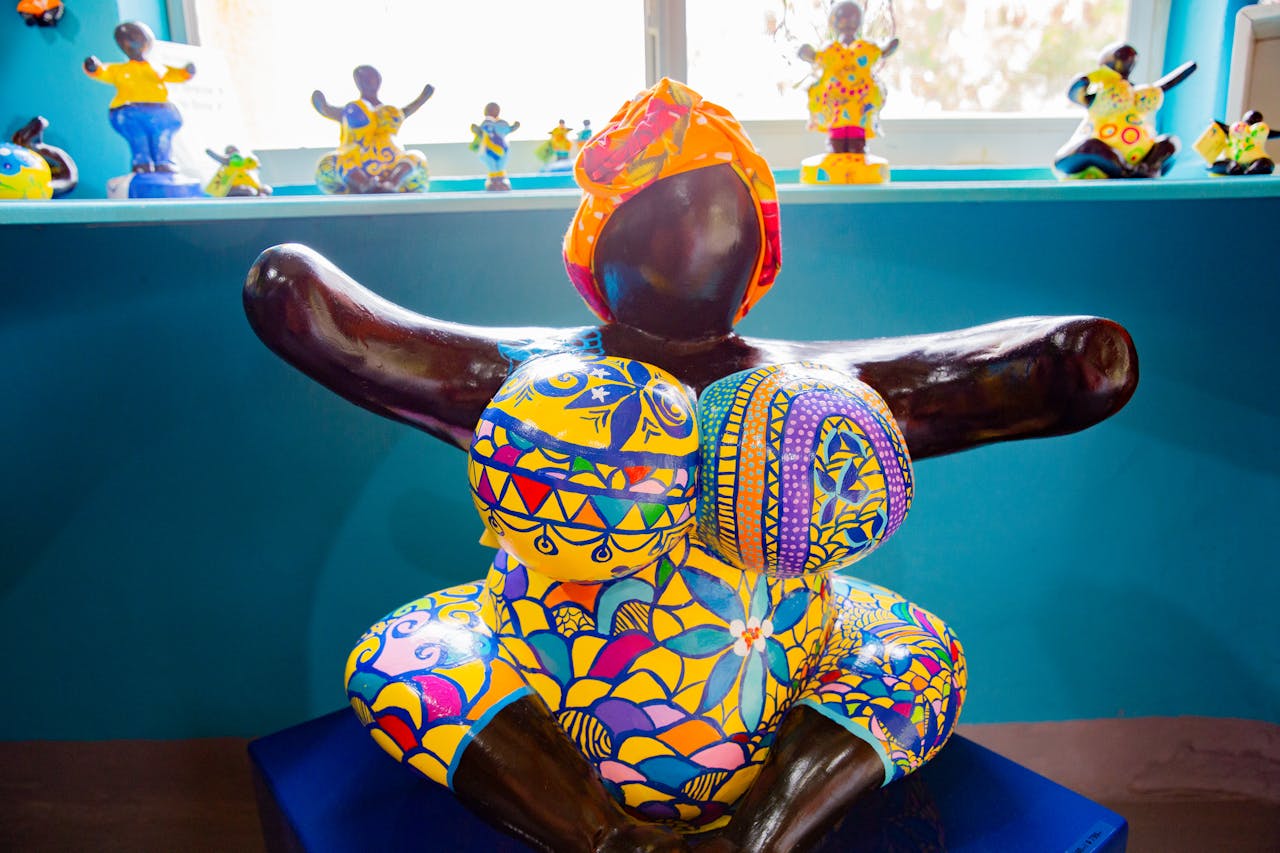 In Willemstad Curaçao, celebrate International Women's Day by taking a Chichi painting workshop at Serena's Art Factory. The Chichi figures, which represent Caribbean women, have come to be a symbol for body positivity and female empowerment.Photo: Courtesy of Serena's Art Factory
Catch Your Dinner
For off-shore team building, water-loving women can venture off on a fishing excursion from Playa Largo Resort & Spa's private dock slip to spend the day catching their dinner. Push your team to step out of their comfort zone to try something new and help each other out when a big catch gets hooked on the line. Once caught, the group can either choose to cook their fish together or have a chef cook it for them. No catch? No problem! The chef will serve up Playa Largo's fish of the day, accompanied by a side of the group's choosing. Prices vary based on group size.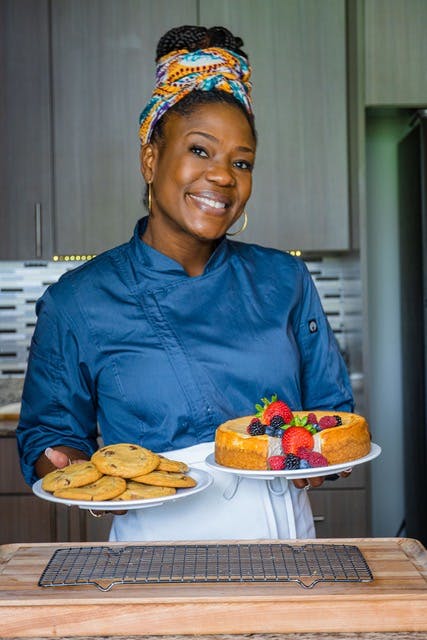 After appearing on Food Network, chef Keii founded Keii Brands, where she offers Zoom classes for groups of 10-300 designed to build bonds in the kitchen.Photo: Courtesy of Keii BrandsBake with the Best
After appearing as a 2020 Food Network contestant with Martha Stewart in the series Bake Away Camp with Martha Stewart, chef Keii has proven success in elevating recipes for an extraordinary catered experience. With Keii Brands, the TV personality has since become well known for events that inspire bonding and good times in the kitchen – a place Chef Keii considers a "delicious outlet for creativity and expression." Classes for 10-300 and available via Zoom and on-site by request. Prices range from $ 75- $ 180 per person.
See the Northern Lights
The further north you travel, the more pronounced the Northern Lights become – which is why Minnesota is one of the best states to view this natural light show. With internationally recognized dark sky designations in the state, large and small groups can bond from viewing one of the world's most awe-inspiring beauties together. Two spots of note: Boundary Waters Canoe Area Wilderness Park, which recently earned its Dark Sky Sanctuary designation (the largest area in the world to gain this status), and Voyageurs National Park, one of the nation's few freshwater-based parks known for boating and fishing.
Mermaid Fitness
Mermaid Fitness, one of the Hotel del Coronado's signature offerings, is available to intimate groups for a unique, empowering and trust-building experience. The class is an exciting water aerobics workout with bright and colorful mermaid tails, where Hotel del Coronado's fitness instructors guide guests through a 45-minute fusion of swimming, core, cardio and strength training set to upbeat music for $ 35 per mermaid.