Tamie Smith is Highest Place US Finisher at Badminton with Top 10 Results
May 08, 2022
Tamie Smith is Highest Place US Finisher at Badminton with Top 10 Results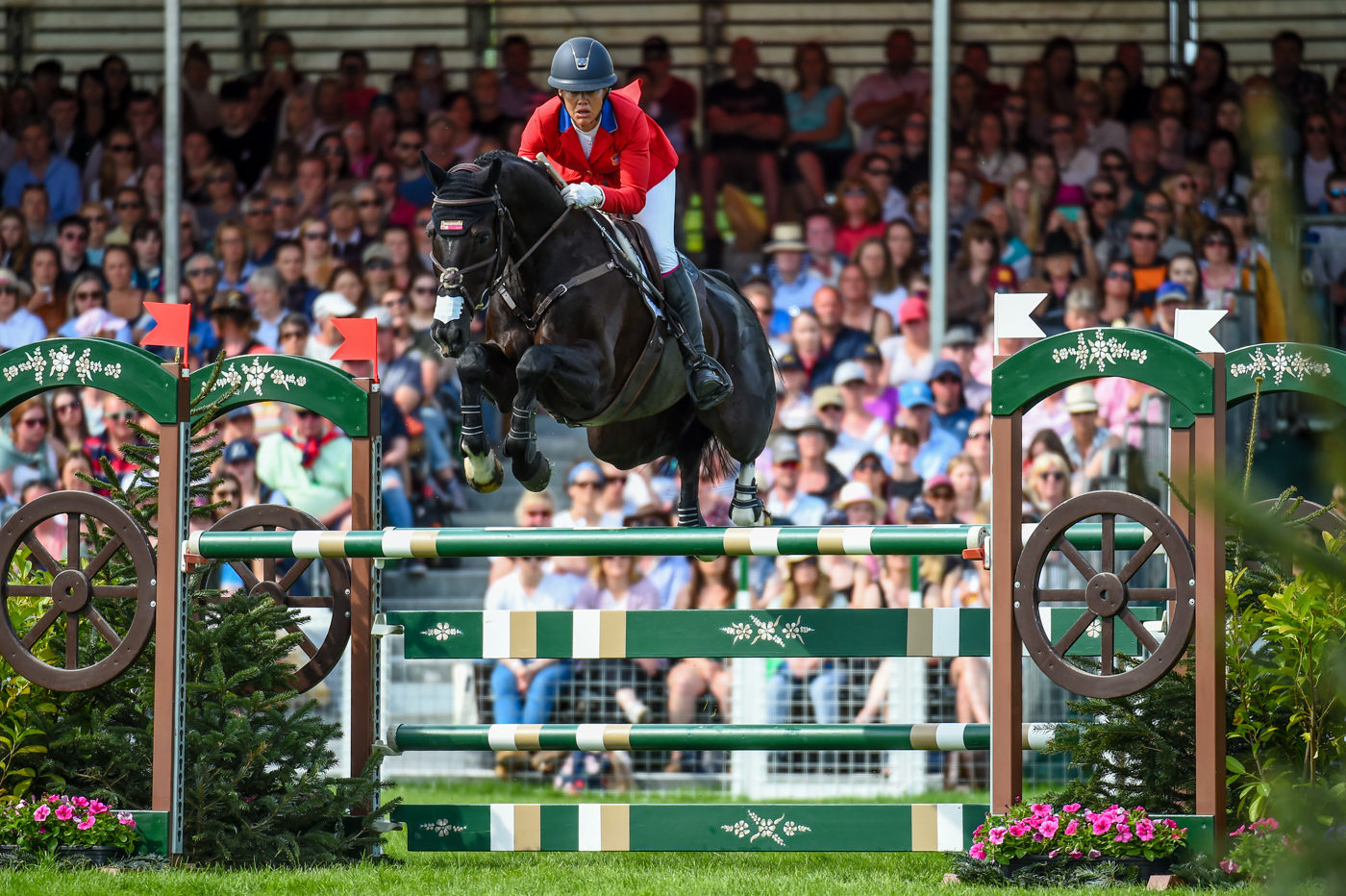 Laura Collett topped the first British one-two-three at Badminton since 2002 and emulated her heroine Pippa Funnell, winner of the event that year, by adding just 0.4 of a time-fault in the showjumping to her leading dressage score of 21.
The 32-year-old, who co-owns her Badminton champion London 52 (Landos x Vernante) with Keith Scott and Karen Bartlett, has had a high profile in the sport since her teens. She won multiple medals at the under-21 European Championships and was clearly exceptionally talented, yet some bad falls and reverses of fortune made the following decade not an easy time.
However, in the past year and a half Collett has won her first CCI5* at Pau, France, her first senior medal as part of Britain's gold medal team at the Tokyo Olympics, and now a first British CCI5* at Badminton, all on the 13-year-old Holsteiner gelding London 52.
"I have no words," said a highly emotional Collett after her clear showjumping round. "That horse is amazing. He jumped off his socks. I couldn't see a distance anywhere and he just went higher and higher. He is a superstar and I am so lucky.
"This is my childhood dream. I remember coming here aged three on my aunt's shoulder and I remember seeing Pippa Funnell win [that 2002 Badminton] and I just always wanted to be Pippa Funnell winning Badminton. I can't believe it's now me winning Badminton."
Ros Canter has an extremely exciting prospect in second-placed, Michele Saul's British Sport Horse gelding Lordships Graffalo (Grafenstolz x Cornish Queen) who, at just 10 years old, has now taken over from the 2018 World Equestrian Games team and individual gold medalist Allstar B (Ephebe For Ever x Narenca B) at the top of her string.
And Oliver Townend, third on Paul and Diana Ridgeon's 14-year-old Irish Sport Horse gelding Swallow Springs (Chillout x Killila) and fifth on Karyn Shuter, Angal Hislop, and Val Ryna's 15-year-old Irish Sport Horse gelding Ballaghmor Class ( Courage II x Kilderry Place) with one rail down a piece, will surely hold on to his world number one ranking for a while longer after two more excellent five-star finishes.
Tamie Smith's ninth place on Alexandra and Ellen Ahern and Eric Markell's 16-year-old German Sport Horse gelding Mai Baum (Loredano 2 x Ramira) means she joins Lauren Nicholson in achieving the best finish of a US rider at Badminton since 2008. Smith's immaculate show jumping clear was one of only four at Badminton today without either jumping or time-faults and must give her campaign for a spot on the American team for the world championships in Italy a serious boost.
"You don't know what to expect after they've done a big thing [cross-country] track," Smith shared, "but I am just so proud of him. The crowd lifted him and buoyed him up over those fences."
Smith and Ireland's Austin O'Connor, eighth on The Salty Syndicate's 13-year-old British Sport Horse gelding Colorado Blue (Jaguar Mail x Rock Me Baby), were the only two non-British competitors in the final top 10.
Ariel Grald and Anne Elridge's 13-year-old Irish Sport Horse gelding Leamore Master Plan (Master Imp IHR x Ardragh Bash) made it into the next set of finishers, though, in 15th, with a jumping clear and just 0.4 of a time- fault.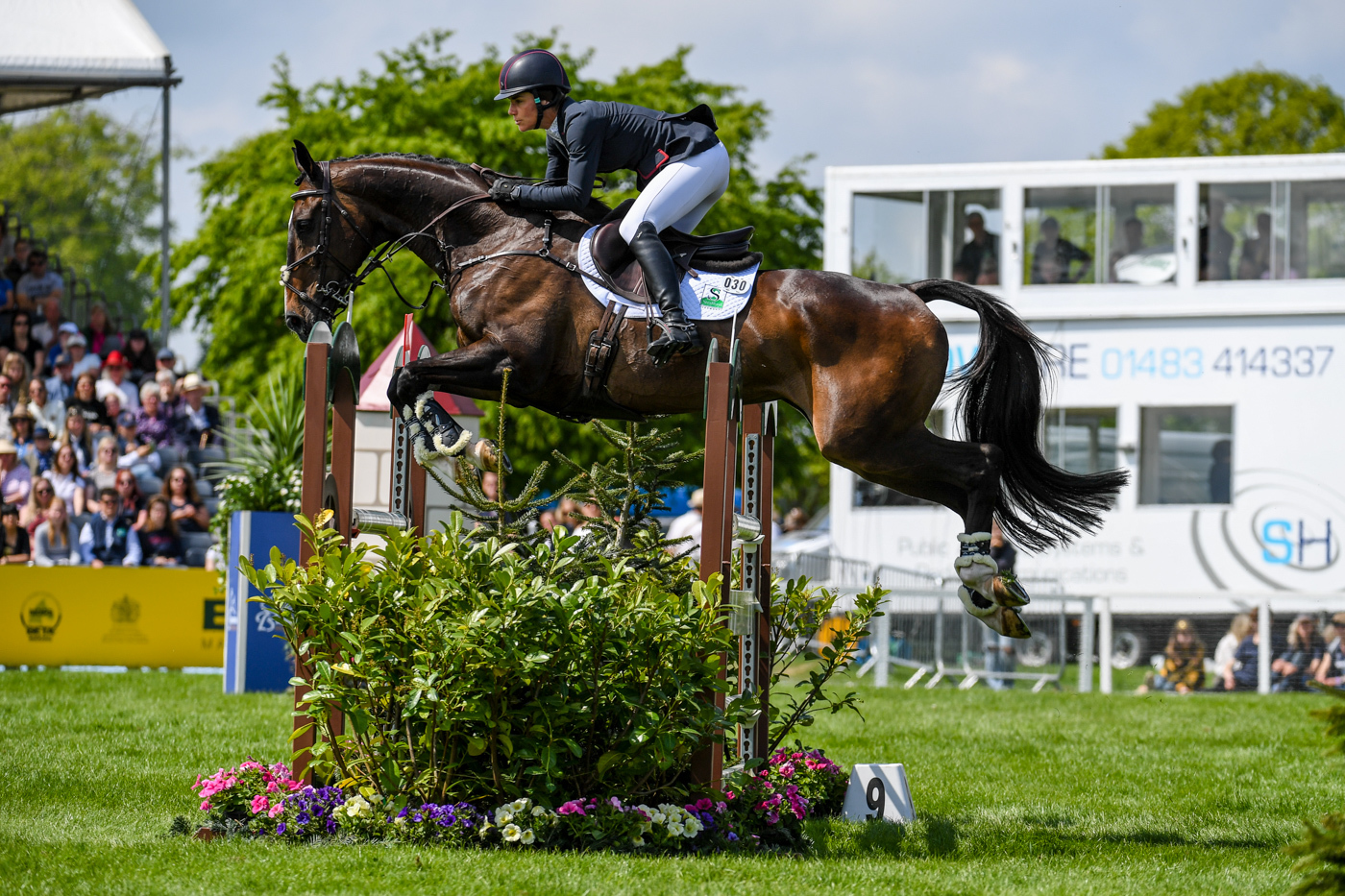 "I was so happy with him," said Grald. "He's very trustworthy on the final day. He really is a good jumper and he tries his heart out, so it is almost a little more nerve-wracking because I know that the only way it is going to go wrong is if I mess it up! He was right there with me and he felt amazing off the ground. It was quite an enjoyable round, actually! That 2/10s of a second was just me taking an extra tug to the green oxer at nine, but I couldn't be happier with how he jumped."
She reflected on her first Badminton experience, saying: "The week has been incredible. I keep going to new places that neither my horse nor I have ever been before, and I am just learning. I knew it would probably feel a bit like Burghley did, but here is just so much more intense; the crowds are so much more in your face. Even hacking up and down to the stables, you are always in the thick of it, right from day one, and my horse noticed that but both of us will have gained so much experience and mileage from coming here. I've got to figure out how to get a better dressage test from him because it is in there."
Philip Dutton admitted that he was "very disappointed" to have two show jumps down on the Z Partnership's 14-year-old Zangersheide gelding Z (Asca x Bellabouche), although, given the influence that a technical, tough track had, they only dropped one spot from 24th to 25th.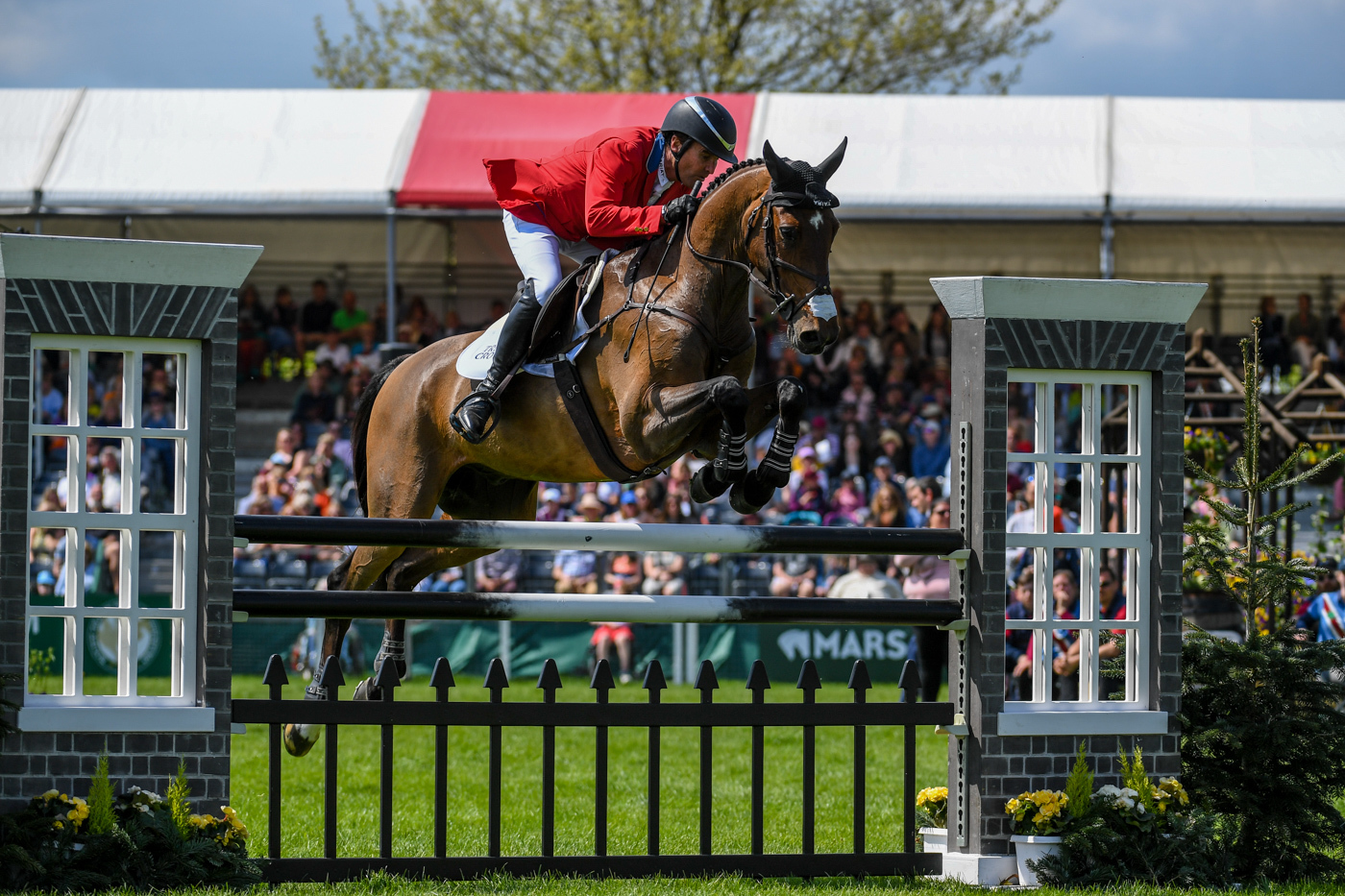 Will Faudree blamed himself for Jennifer Mosing and Sterling Silver Stables' 11-year-old Hanoverian gelding Mama's Magic Way's (Mighty Magic x Straightaway) two poles down, explaining: "He was very excited in the warm-up. He acted like he didn't do anything yesterday and when we went in the ring, they blew the whistle quicker than I was expecting. I wanted to walk him around a little [to settle], so I did and then I was probably in too much of a hurry. Then I was coming to the first jump and felt he wasn't really looking at it at all, just the crowd. He was so happy people were here to watch him.
"He jumped super, then I had 7b down. He jumped in great and I tried to micromanage, rather than let him do what he does best, so I've got to take the blame for both of them a bit. He's a super horse, a horse with a future, and he will have grown up a lot this week.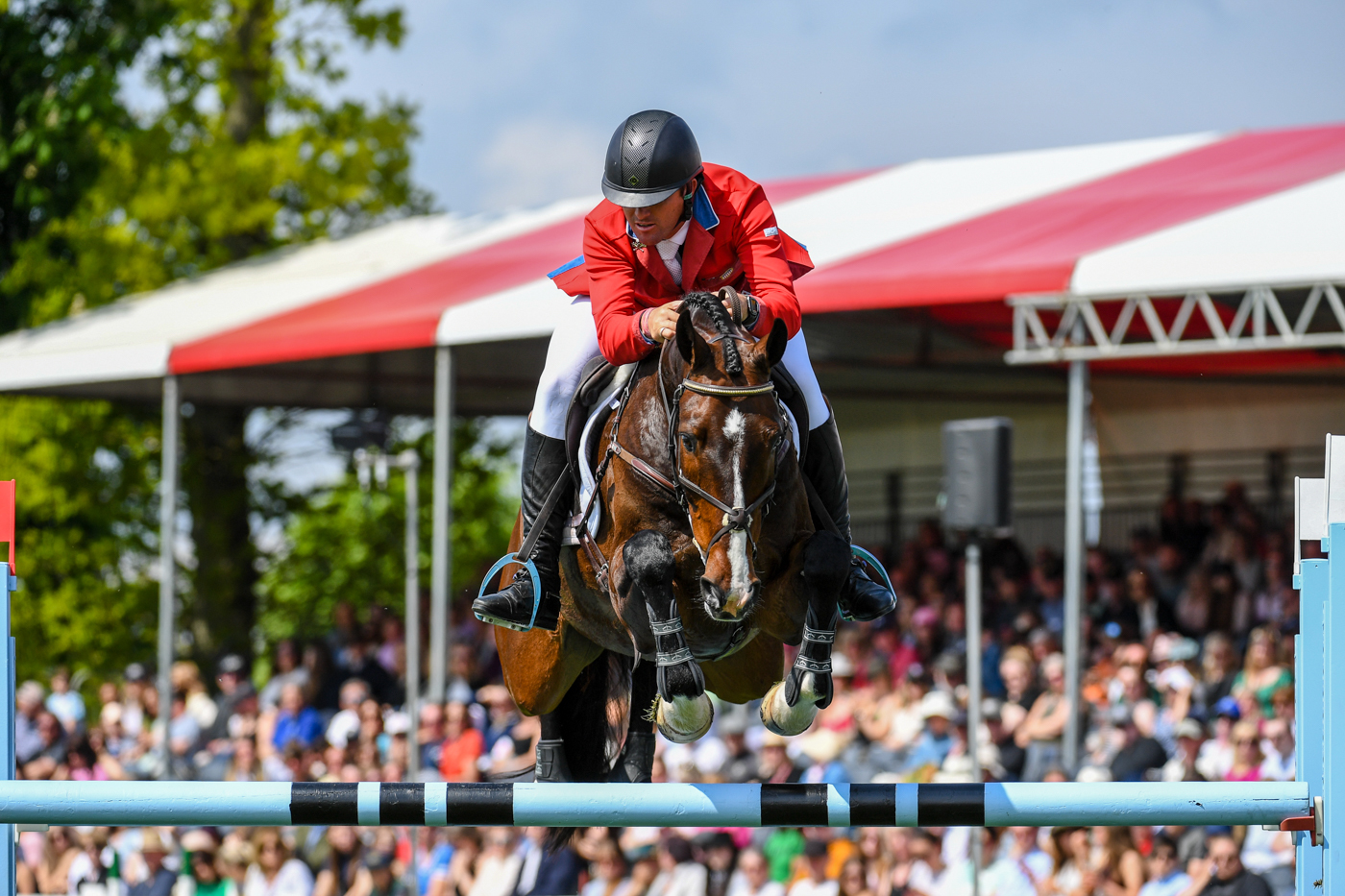 "He's got so much talent and ability. I've ridden a lot of phenomenal horses in my life, but he is one of the nicest horses I've ever sat on, and I'm going to do everything in my power to be in the winner's circle the next time I come. back here because he has the ability to do that – he really showed me that this week.
"He's now done three five-stars; I need to fix the first and last phase and I'm going to really work on that this summer and autumn because the cross-country is there."
As well as eight jumping penalties, Faudree also picked up 0.4 of a time-fault, and his finishing score of 58 left them in 31st place.
Dom Schramm and Team Bolytair B, LLC's 16-year-old Dutch Warmblood gelding Bolytair B (Polytair x Nobelle) also dropped two rails and collected 0.4 of a time-fault for 49th place, while Emily Hamel and Black Flag Option, LLC's 15- year-old Holsteiner gelding Corvett (Corrido x Tina XII) hit one show jump and picked up 1.2 time-penalties for 52nd place.
Helpful Links
Don't forget to follow the USEA event coverage on social media!
Facebook | Instagram | Twitter
.