Soccer season kicks off Monday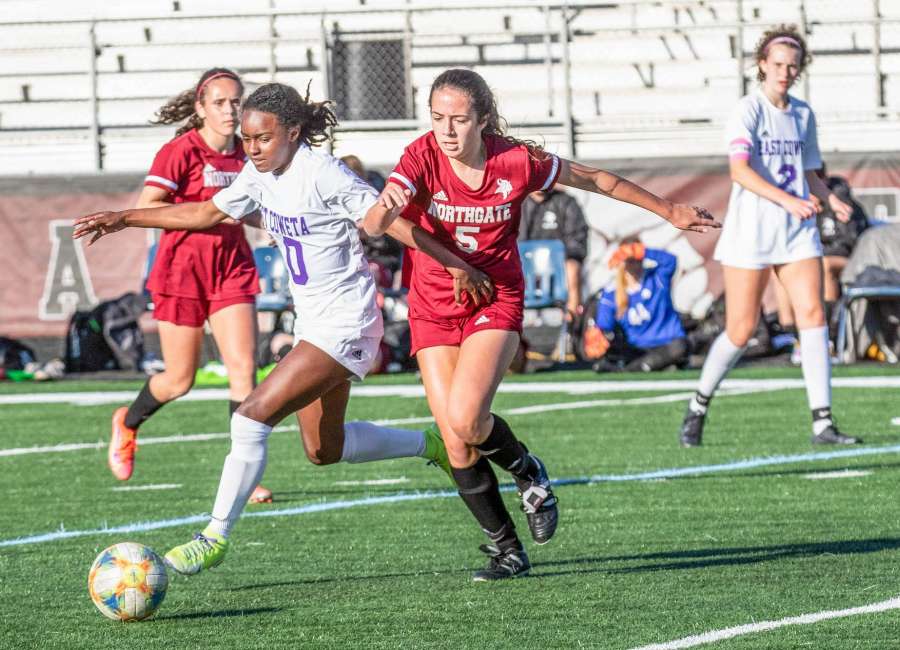 The Newnan Times-Herald
MJ Pitt (White No. 10) and the East Coweta Lady Indians have a scrimmage game on Friday and then open the regular season at home next Tuesday against West Forsyth.
It may be cold for a while longer, but the forecast has a lot of upcoming soccer to prepare us all for the warm weather.
The official Georgia High School Association Athletic calendar announced that regular season soccer games can begin on Monday, Jan. 30, 2023. Trinity Christian School is wasting no time; their boys team is off to Zebulon on Monday to open their season against the Pike County Pirates.
It will be the first game as the Lions head coach for Mike Townson, who joined the program last summer. The Lady Lions open the next day on the road in Carrollton.
The Northgate girls, who finished 14-6 last year, open their 2023 season at home on Monday against the Marist Lady Eagles. Maris finished 16-5 last year and were the Class 4-A state runners-up.
On Tuesday, the Northgate boys open their season when they travel to Social Circle for a 7:30 pm game.
East Coweta will host a doubleheader on Tuesday night at Garland Shoemake Memorial Stadium, with West Forsyth as their opponent. The girls game starts at 5:30 pm, and the boys begin afterwards.
The Newnan Cougar boys open the season on Monday when they travel to Sandy Creek for an 8 pm game, while the Lady Cougars open at Carrollton next Wednesday.
The Heritage School opens its 2023 season a little later in the month when they host Cristo Rey on Thursday, Feb. 16.
And for those fans that can't wait that long, there are two scrimmages on Friday for you to take in. Trinity Christian will host Holy Innocents on Friday (girls at 5:30 pm and boys at 7:30 pm), and East Coweta will host Whitewater (6 pm and 8 pm).