Six US Based Pairs Still in Contention After Badminton Cross-Country
May 07, 2022
Six US Based Pairs Still in Contention After Badminton Cross-Country
Although British riders are in control after cross-country day at Badminton, holding nine of the top 10 spots, most of the US-based riders were delighted with their horses after a dramatic day of action.
Laura Collett and her Tokyo Olympics team gold medallist London 52 (Landos x Vernante) have held on to their dressage lead, finishing clear and inside the time despite a couple of scrappy-looking moments. Collett and the 13-year-old Holsteiner gelding have 4.7 penalties in hand over Oliver Townend and Paul and Diana Ridgeon's 14-year-old Irish Sport Horse gelding Swallow Springs (Chillout x Killila); Townend is also third on Karyn Shuter, Angal Hislop, and Val Ryna's 15-year-old Irish Sport Horse gelding Ballaghmor Class (Courage II x Kilderry Place), with just 0.2 penalties between his two rides.
Tamie Smith is the best-placed American in 15th on Alexandra and Ellen Ahern and Eric Markell's 16-year-old German Sport Horse gelding Mai Baum (Loredano 2 x Ramira). The pair collected 11.2 time penalties and therefore slipped 10 places from her dressage position.
"He was full of running," Smith said of Mai Baum following their run. "He answered all the questions and was super-rideable. What's really great about him is that he can over jump a bit in the showjumping, but in the cross-country, he just does how much he needs to. I even heard brush go through his legs, which was really impressive! The jump into the lake rode a bit bigger than I had anticipated, but apart from that everything went as I had planned. Eric Winter has done a phenomenal job by making this a fitness test – you really felt the climbs. "
Ariel Grald was the fastest US rider of the day, picking up eight time-faults during a good round on Anne Elridge's 13-year-old Irish Sport Horse gelding Leamore Master Plan (Master Imp IHR x Ardragh Bash). Their two-phase score of 43.4 means they are in 24th place out of the 59 horses left in the competition at this stage.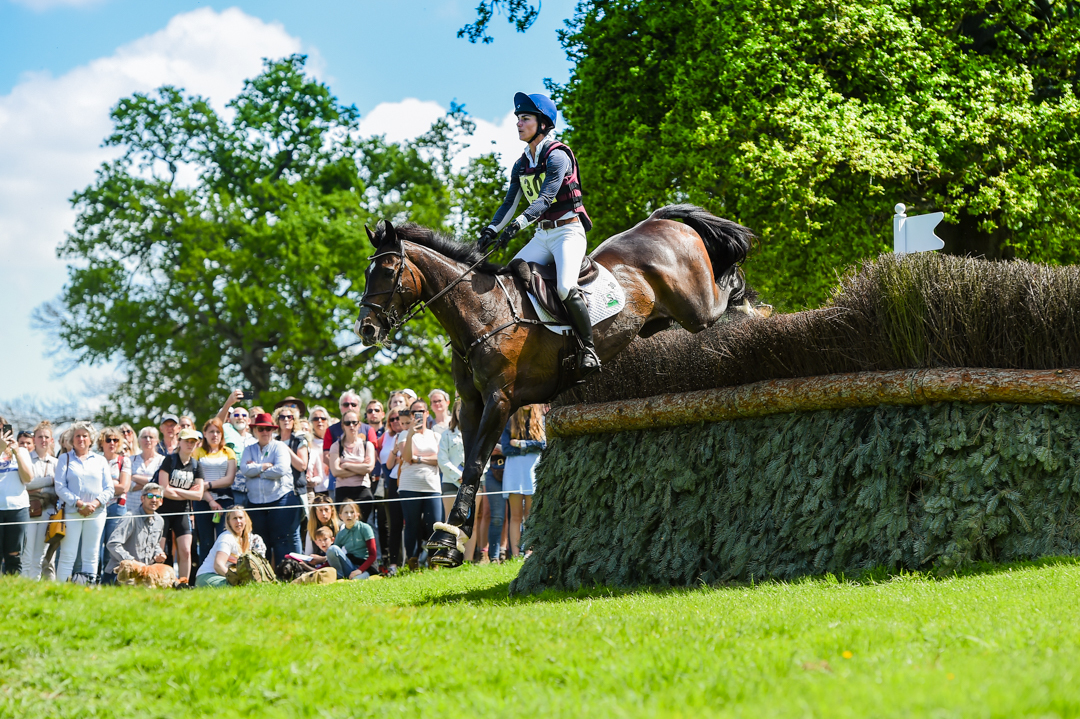 Grald commented on the effect the vast Badminton crowd of 110,000 had on the cross-country phase today.
"I was trying to see where I was going next, but if you looked up all you could see were people," she said.
"It's a little bit hard to gauge all your lines – there are so many people. I kept looking between his ears and kept reminding myself that we just needed to stay connected and in the same place, and he was so good. He just picked up everything. "
Phillip Dutton and the Z Partnership's 14-year-old Zangersheide gelding Z (Asca x Bellabouche) are only 0.6 of a penalty behind them in 25th place after an effective round that showed all of Dutton's experience for 10.8 time-faults.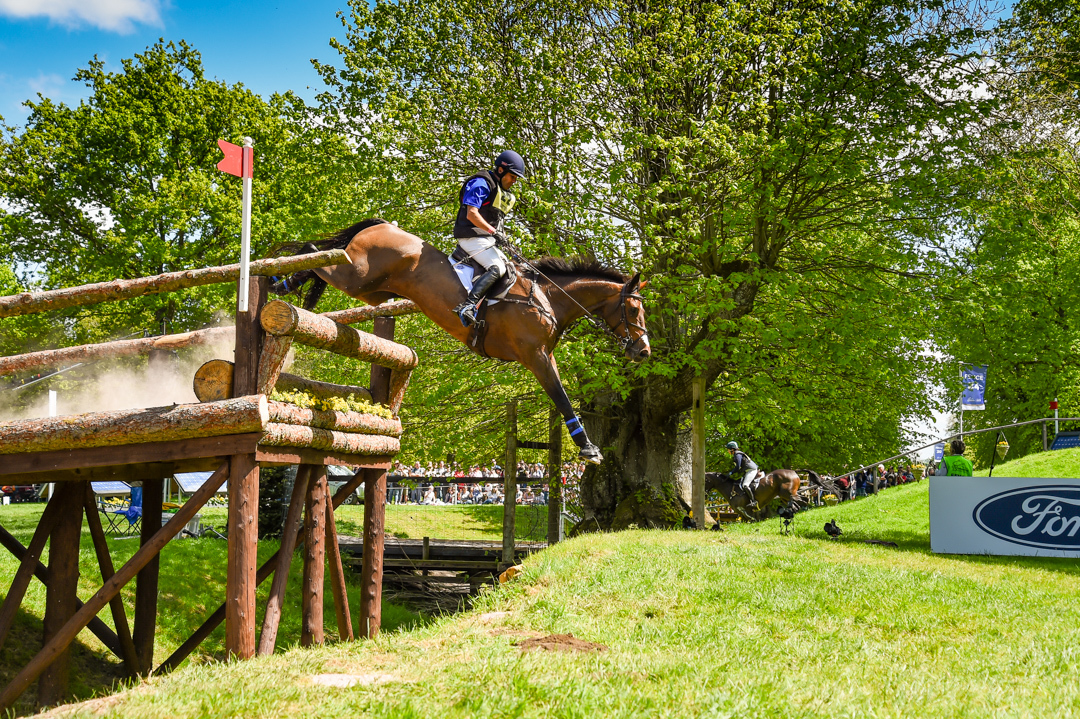 Dutton explained, "He lost a back shoe, and I was just struggling a bit with the turns, but he's a brave old horse and even when he slipped on the turns, he had a crack at it, so that was pretty amazing. It was tough, especially the middle section – you couldn't take a big breath and relax because you had to get ready for the next one. But funnily enough, the fences were riding really well; it's just that anything that was turning a bit technical was tough for my guy with three shoes on. He's a very good horse. Sometimes they've got to really fight for you, and he did. "
Experience and maturity helped Will Faudree guide Jennifer Mosing and Sterling Silver Stables' 11-year-old Hanoverian gelding Mama's Magic Way (Mighty Magic x Straightaway) to a clear round with 10.8 time-faults for 38th place overnight.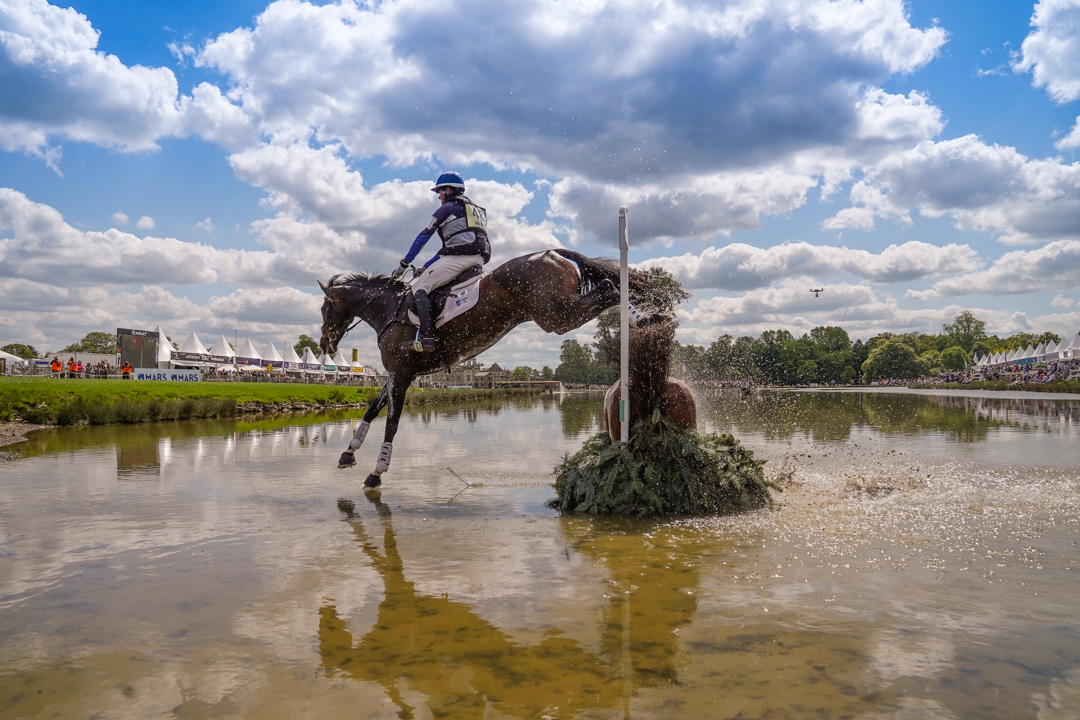 "This is my first trip overseas with him and he's not that experienced," Faudree shared. "But he's a phenomenal cross-country horse. It took some work getting it done out there. After the Footbridge he took a little peek at the ditch there. I gave a little tap behind my leg, and he didn't look at anything else. He's got terrific footwork.
"If I was 22 again I probably would have kept hustling him at the last six, seven jumps to get as close to the time as I could, but what's that saying? With age comes wisdom. I was off the pace in the dressage and I just wanted him to have a really confident round. He's a horse for the future at 11-years-old. He finished full of running, so I'm thrilled with him. "
Team Bolytair B, LLC's 16-year-old Dutch Warmblood gelding Bolytair B (Polytair x Nobelle) pulled very hard, and Dom Schramm soon realized that his new bit wasn't proving effective, so settled for a clear jumping round rather than chasing the time and risking problems. Their 44.4 time-faults mean they are in 54th place.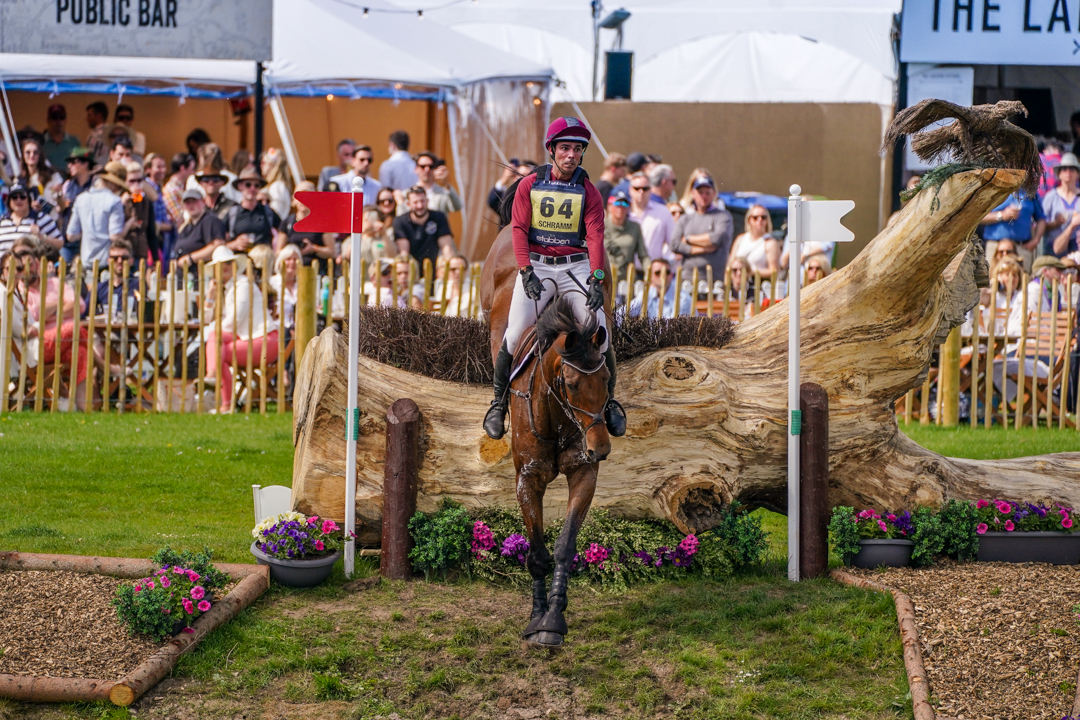 "I am very glad to be here at the end," said Schramm. "He's an incredible, scopey, powerful horse, but he's always been strong. In my lead-up to the event, the bit I've been using at the past few five-stars just didn't really work very well. So I got a new bit and it was great for schooling, but I didn't have another run. Here, I got through the quarry and got to the next jump, and every time I was taking a half-halt he was getting faster, and he's got a big step, so I made a decision right there not to push him past where I can control him, I'm just going to jump round, because there had been a lot of trouble. It's unfortunate, I wish I had been able to be a bit sportier, but it is what it is.
"He just so 'up' in the warm-up – I've never felt him like that before, and it was hard for him to let me in. He's an incredible jumper; I just need a little bit more control so I can go quicker. "
Emily Hamel was the only other US-based rider to finish the cross-country. She and Black Flag Option, LLC's 15-year-old Holsteiner gelding Corvett (Corrido x Tina XII) picked up 20 jumping penalties as their exuberant jump over the drop into the Mars Equestrian Sustainability Bay water complex (17ab) meant they couldn't manage. the turn to the second element. They crossed the finish line with 33.6 time-faults and are in 58th place.
Lillian Heard and her 16-year-old Irish Sport Horse gelding LCC Barnaby (Guy Cavalier x Lady Tanjour) fell at fence 25, the Badminton Collection Flower Boxes but got to their feet. Karl Slezak retired Fernhill Wishes (Chacoa x KEC Galway Bay), who Slezak co-owns with Kirk Hoppner after two stops, firstly at 6c, the Voltaire Design Huntsman's Close, and then at 14, the KBIS Brush Village. Matthew Flynn and A. Patrick and Kathleen Flynn and Merry Go Round Farm's 13-year-old Dutch Warmblood gelding Wizzerd also retired after two refusals at 17a.
Perhaps the shock of the day was second-placed Tom McEwen and Ali McEwen's 15-year-old Selle Francais gelding Toledo De Kerser's (Diamant de Semilly x Ariane du Prieure II) fall at the final part of the bounce at 24, the Lightsource bp Solar Farm, having looked first-class to that point. Fortunately both horse and rider are unharmed, and McEwen jumped clear about his second ride, the 12-year-old Irish Sport Horse mare CHF Cooliser (Womanizer x Super Spring) owned by Vicky Bates and David Myers.
Show jumping is set to take place on Sunday at 11:30 am BST / 6:30 am EST. Times and order of go will be announced following the second horse inspection which begins at 8:30 am BST / 3:30 am EST.
Helpful Links
Don't forget to follow the USEA event coverage on social media!
Facebook | Instagram | Twitter
.