Savannah Vanderwier pursues Olympic dream in switch from compound to recurve archery
March 02, 2022
CHULA VISTA, Calif. – Savannah Vanderwier began her archery journey at the age of just 10 years old when her father, a bowhunter, was asked to assist their local 4-H chapter with their archery club. Vanderwier, who is a current United States Archery Team (USAT) member in the compound women's division, has been competing in compound archery ever since.
"I could beat the boys right off the bat, even though I had never shot a bow. It was so much fun, so we just kept going. Through that club, we found out about more and more tournaments, and that's how I originally got into archery, "said Vanderwier about her start.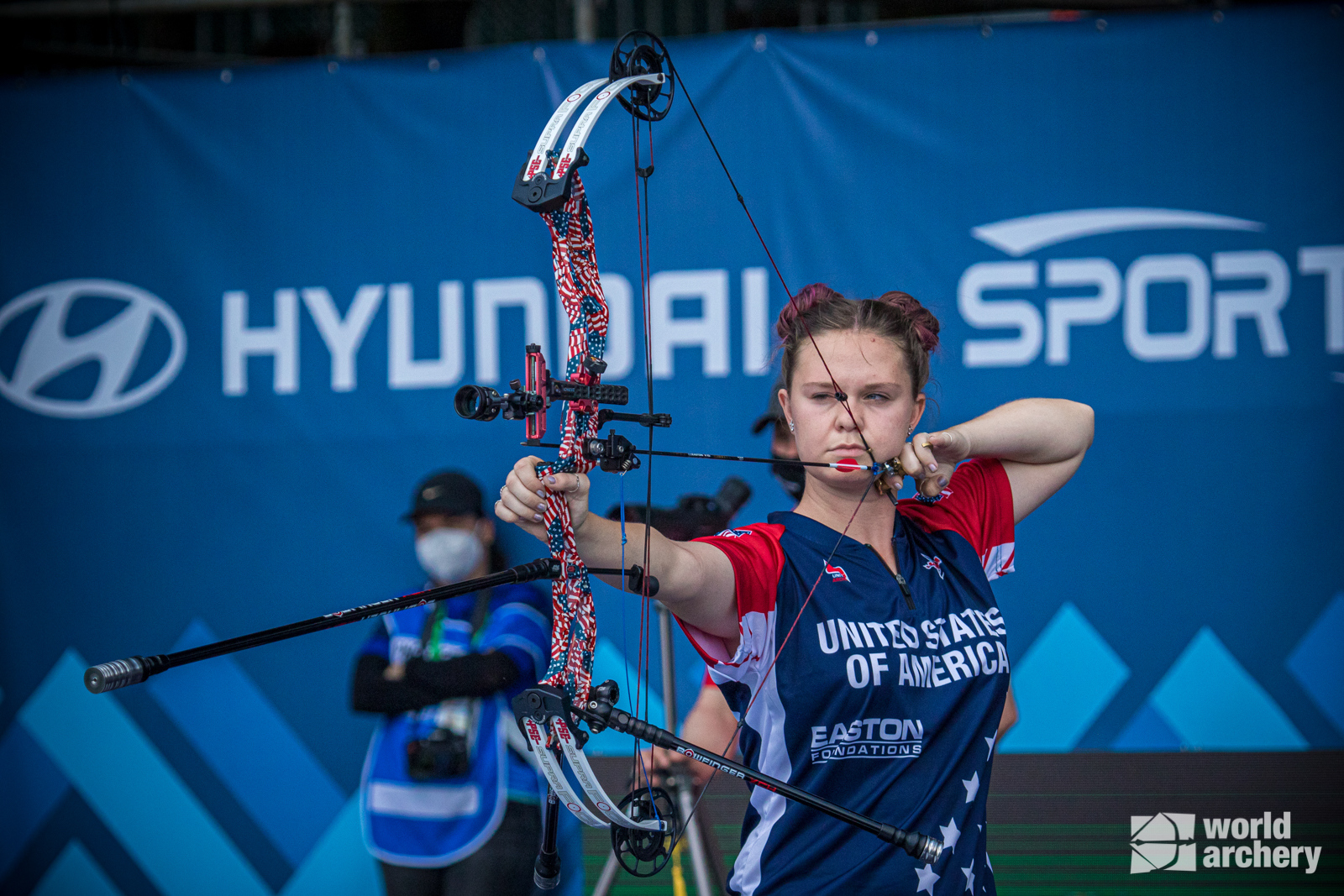 Vanderwier is a decorated compound archer; she's racked up silver and bronze finishes as a youth at World Archery Field Championships and team silver and gold at two consecutive editions of the World Archery Youth Championships. In her world cup debut season in 2021, Vanderwier added an individual bronze and team gold and finished 5th at the World Cup Final.
While moving her way up the compound ranks, on practice day for the 2020 USA Archery Target Nationals, she was approached with what seemed like a crazy idea: to switch to recurve archery and train with the eventual goal of reaching the Olympic Games.
"The instant the Olympics were brought up, I wanted to say yes right then, but I knew it was going to be a big commitment. The idea of ​​having a chance at the Olympics was cool because we don't get that with compound. I never could have made the switch on my own, "Vanderwier said.
In pursuit of her Olympic goals, Vanderwier has been in the USA Archery's Resident Athlete Program since Jan. 2021, where she has been training in both compound and recurve. Since the end of the 2021 outdoor season, she has been training exclusively with her recurve. Her 2022 season will consist of only recurve events.
"I've already done my indoor season. I just had three: Indoor Nationals, Lancaster Classic and the Vegas Shoot. As far as the outdoor season, I'll be attending all the USATs. I will be trying to do Field with recurve because with compound field is my absolute favorite, "said Vanderwier about her 2022 season.
At her first shoot since switching to recurve, Vanderwier shot an 1120 at the Indoor Nationals in Chula Vista, which put her 6th in the final rankings for the recurve senior women, and she climbed her first recurve podium finishing 3rd at the Lancaster Classic.
Vanderwier isn't the only archer who has made the switch from compound to recurve with the hopes of competing at the Olympics. Four-time Olympian Brady Ellison made the same decision to change bow styles and has seen great success, winning three medals at four Games and a world champion title.
With the end goal being Los Angeles 2028, Vanderwier is currently working through some short-term goals that she hopes will help her get there.
"As far as this year goes, I just want to do the best that I can at USATs and get a good ranking. It would be very cool to be anywhere close to the top four. I eventually want to make the World Cup Team, and I think my biggest goal right now would be making it to the Field Championships, "said Vanderwier about her goals.
To follow along on Vanderwier's journey, connect on her athlete's Instagram and Facebook pages and be sure to keep current on USA Archery news.