Legacy of Easton Archery Still Going Strong
May 06, 2021
By Jeff Waring
Like a shiny new flagship bow not matched properly to a topflight arrow, Bowhunter Magazine probably wouldn't have gotten very far at its founding back in 1971 if not paired from the outset with the support of a topflight arrow manufacturer – Easton Archery.
As the Bowhunter brand approaches its 50th birthday this coming fall, it's absolutely amazing now to look back, considering that Easton was nearly that old when they purchased the inside cover of our first issue, and now the company is headed toward its century mark. That is a heritage worth celebrating – and a business partner to be oh so thankful for!
Ironically, it was during a long hospital stay to recover from a serious hunting accident that a teenage James "Doug" Easton first read Dr. Saxton Pope's accounts of "Yahi Archery" and was inspired to build his own archery equipment. Following Pope's detailed directions – Thank You, Ishi! – Doug handcrafted bows and arrows and soon fell in love with the sport. He later met Dr. Pope at Golden Gate Park's archery range in San Francisco, and their conversation added further fuel to the fire of Doug's growing passion for building bow tackle.
In 1922, Doug Easton launched his own part-time business in Watsonville, California, south of San Francisco, and began offering handmade yew bows, cedar arrows, and various archery accessories for sale. Further fueled by the wave of interest in archery following the release of Pope's popular Hunting with the Bow & Arrow in 1923, business grew steadily and within a decade Easton relocated to a larger shop in Los Angeles where he spent years turning out high-grade wood arrows for tournament archers.
But in the late 1930s Doug Easton's quest to build a better arrow led to his experimenting with aluminum tubing. That material's inherent consistency soon resulted in matched, championship-caliber shafts and, in fact, within a few years Easton's experimental aluminum arrows were at the top of the National Championship podium. However, it wouldn't be until after WWII that Doug Easton would be able to make his first branded aluminum shaft – the 24 SRT-X – generally available to archers. Those arrows were so successful that by the early '50s Easton no longer sold sold finished arrows and was churning out so many raw shafts that the company had to hire additional full-time workers and move to a larger facility.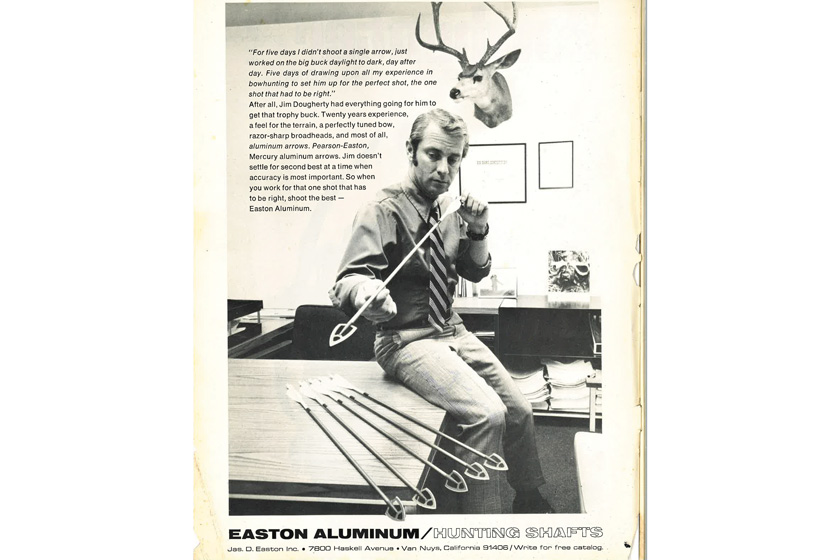 Incorporated as Jas. D. Easton Archery and working out of a 10,000-square-foot facility in Van Nuys, the company was positioned over the next decade to make the most of its growing technological expertise in the milling and precision drawing of aluminum. One result was the legendary XX75 shaft, followed by the amazing X7 target arrow. But by the mid-'60s, Doug's engineer son, Jim, began the company's diversification into other sports, leading to the manufacture of a host of new and developing product lines that eventually fell under Easton Sports (a part of the business that would come to generate hundreds of millions of dollars and be merged-off in 2006 to help fund the Easton Foundations).
Founder Doug Easton passed away in 1972, so he wasn't present in 1980 when Jim Easton moved the rapidly expanding company to their new 100,000-square-foot facility in Salt Lake City, Utah. The engineers working out of Easton's SLC shop spent the next decade or so mastering methods of aluminum fabrication while also making the company the world's leader in manufacturing aluminum arrows. They not only dominated competitive archery but also the burgeoning bowhunting market of the '80s,' 90s, and early 2000s, a period considered to be the "Golden Age of Bowhunting," although many would argue that Age hasn't ended. It was during the early '90s that the bowhunting community got its first look at Easton's XX78 Super Slam Arrow Shaft & Component System, championed by the original Super-Slam bowhunter Chuck Adams.
But by the mid-'90s, Easton had acquired and evolved new carbon technology that was about to revolutionize arrow-making, and it would ultimately result in the development of the first Aluminum / Carbon Composite shafting and the most successful tournament shaft in history, the X10. This perfect marriage of high-strength carbon with super-precise aluminum alloy not only led to an arrow that would win every Olympic medal since '96, but also to a near Cambrian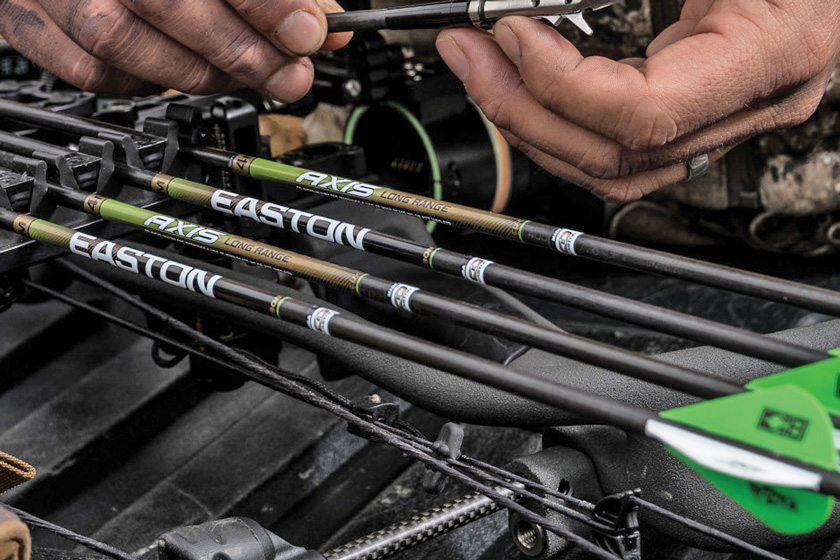 Explosion of arrow products across a broad spectrum of aluminum, carbon, A / C, and aluminum-carbon shafting (think FMJ), not to mention the necessary componentry, tools, and accessories that bring us to where we are today.
---
---
In 2002, Jim Easton's son, Greg, who had spent time learning about all of the family businesses, took the helm of what had become Easton Technical Products (Easton, Hoyt, and Delta-McKenzie). And just two years later he oversaw the launch of what is now arguably the best all-around carbon hunting shaft in history, the small-diameter AXIS shaft with HIT Technology. When in 2011 Greg Easton moved on to head corporate parent Jas. D. Easton, he ensured that for the foreseeable future Easton would focus on continuously innovative, Made in the USA arrow-manufacture and technology.
Fast-forward to 2021's arrow introductions, including the AXIS Long Range, 4mm FMJ, Carbon Legacy, 6.5 Whiteout, and Avance target shafts, and it's easy to see that new company President Aaron Lucky and team are certainly living up to Easton's Archery Hall of Fame pedigree and promise. And for that, the Bowhunter Magazine & TV crew is eternally grateful. To learn more about Easton products, go to www.eastonarchery.com.
.