Hardware: Prime Inline 5 | An Official Journal Of The NRA
Back in 2011, Prime Archery designed its "Parallel Balanced" cam, its purpose being to eliminate lean cam and to balance the cam load evenly throughout the draw cycle. This cam accomplished its purpose, and rapidly gained a reputation for being reliable and superbly accurate. But it had problems — it was complicated, bulky and heavy, and it required extra cables. Early in 2022, Prime announced its new Inline cam system. The company claims it's the world's first single-cam system that accomplishes the same thing they did with the Parallel cam system — it eliminates cam lean — and does so via a much simpler and better performing system. A feat of archery engineering, as the Inline cam begins to rotate through the draw cycle, the cable is shifted over the top of the center of the cam axle, bringing the string and power cables in line, thereby balancing the cam load. Prime claims it provides increased accuracy, better nock travel and faster tuning. This is the cam system at the heart of Prime's new Inline 5 bow.
My first impression of the new Prime Inline 5 was that the riser is long and the brace height is short — a natural reaction from a trad guy, right? The bow's appearance rapidly grew on me though, and within about 9.5 seconds I was in love with how it looked. Inline 5 bows are available in six solid colors, seven camo patterns and five target colors. I ordered the King's XK7 camouflage pattern on my bow. It looks awesome and will blend well into almost any environment. The cams and hardware on my bow are black, complementing the camo nicely. The bow features a "Nano" grip that's designed to provide comfort by utilizing aerogel (a NASA-developed technology) to create an insulated barrier between the composite grip and the cold aluminum riser. The longer you hold this bow's grip, the warmer it gets.
Fit and finish on the Inline 5 are beautiful; I was unable to find a single thing to complain about. Draw length is user-adjustable from 26 to 30.5 inches in half-inch increments, via two rotating modules and a limb stop stud. Simply remove the two small screws in each mod, rotate the mods to the appropriate position (positions are marked 1 through 10) and replace the screws. Remove the limb stop stud and reinstall it in the matching position.
Draw weight is also adjustable via the standard method of turning the limb bolts in or out with a 3/16 Allen wrench (maximum of three full turns per manufacturer's recommendation).
Upon testing, using a simple drop-away rest and a SPOT HOGG five-pin sight, my initial impression was that the draw cycle felt aggressive. I'm sure this had something to do with the fact that I usually shoot longbows, but after turning my draw weight down just a bit, I was able to determine that while still aggressive, the draw cycle of the Inline 5 is also silky smooth . And the draw stop, or "back wall," is delightfully complete, with no mushiness or play whatsoever.

Prime has integrated a new dampening system into the Inline 5 that reduces vibration during and after the shot. This not only adds to the pleasant feel of shooting this bow, but more importantly, it quiets the shot, reducing the chances of a buck jumping your string. I measured the sound with a RisePro decibel sound meter, and the average decibels produced from each shot was right at 70.5 dB with the bow set for a 60-pound draw, and 72.5 dB with the draw weight turned up to 70 pounds.
I tested the bow's velocity by shooting a hunting-weight arrow through a Shooting Chrony chronograph set 3 feet in front of the bow's riser. The arrows I used are 340 spine Gold Tip Pro Hunters cut at 30 inches, with a weight tolerance of 1 grain and a straightness factor of +/- 0.001. Arrow weight is 326 grains. Mounted with a 100-grain field tip, my total arrow weight was 426 grains. Arrow speed was so consistent it was uncanny, never varying more than a foot per second from the average over a 10-shot string.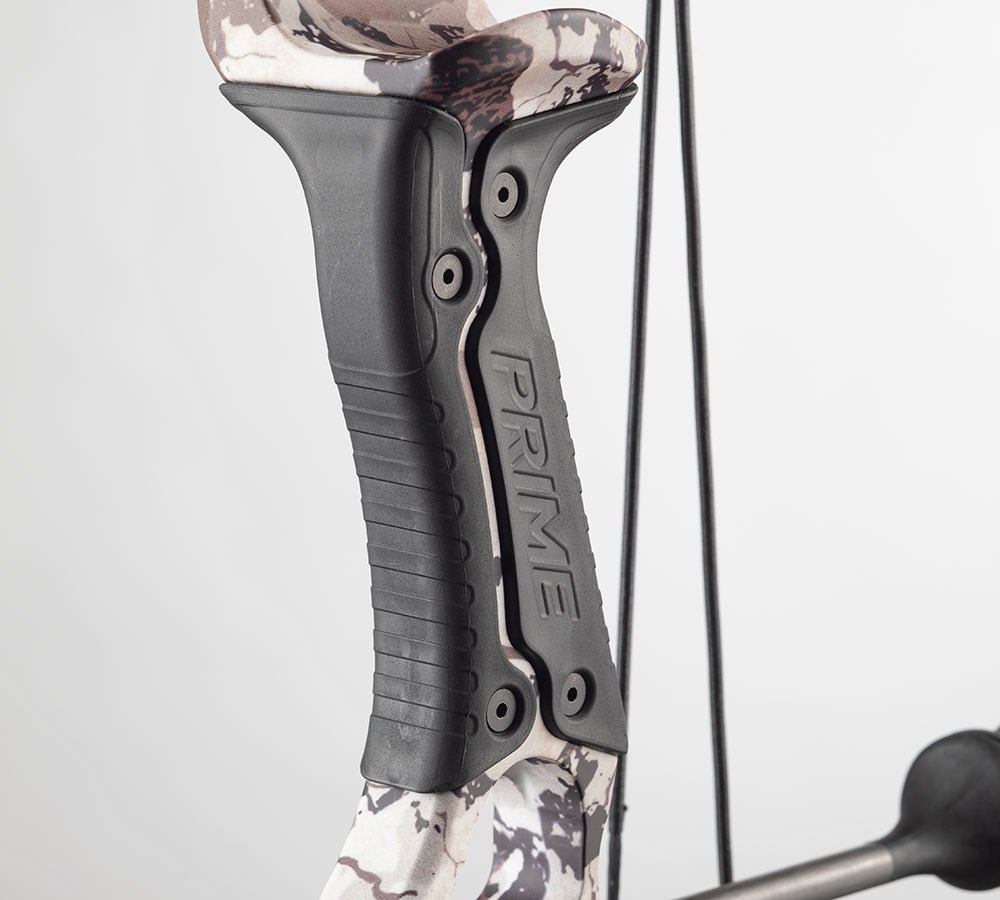 I can attest the Inline 5 is remarkably accurate, too. Even when I released less-than-perfect shots, my arrows seemed to group. Multiple three-shot test groups were shot, and once I got comfortable I was able to keep most groups at 20 yards around 1.5 inches. My smallest group had the fletches touching, and the largest was about 3 inches. At 50 yards, my group average was 5 inches, with my smallest group measuring less than 3 inches. I've no doubt that a more experienced compound bow shooter could cut those group sizes in half.
After purchasing the Prime Inline 5 you can register for Prime's Archery Shield Program, which Prime Archery claims is "the most advanced warranty in the industry." This warranty program includes free replacement strings (every two years) for life, protection against any manufacturer defects, free 48-hour rush shipping on parts, and a free pro-shop tune-up six months after you purchase your bow. That should make you feel good.
Prime's new Inline 5 is aggressive and fast, but it is also easy to shoot and superbly consistent. It's not the quietest bow I've ever shot, but neither would I call it loud. It is, for me at least, extremely accurate and forgiving. I would be thrilled to hunt with it anytime, anywhere.
Technical Specifications
• Type: dual-cam compound bow
• Riser: aluminum
• Limbs: split
• Cam (s): Prime Inline cam system
• Flu: Prime NanoGrip
• Axle-to-Axle Length: 35 "
• Brace Height: 6 "
• Draw Weights (lbs.): 30-40, 50-60, 55-65, 60-70, 70-80
• Draw Length: adjustable 26 "-30.5"
• IBO Speed ​​Rating: 342 fps
• Overall Weight: 4.6 lbs.
• Finish: multiple solid color and camo options available (Kings XK7 shown)
• Accessories: none
• MSRP: $ 1,249; G5prime.com
.