Geraldine raises curtain on Stateside push to boost MAC arts center
ARTS BOOST: Geraldine Hughes and husband Conor outside the White House

January 23, 2023
by Conor McParland
New York stage and screen star Geraldine Hughes is leading a fundraising drive this week to raise much-needed funds for the MAC arts center in her native Belfast.
Geraldine Hughes, who grew up in the high-rise Divis Flats in West Belfast, left Belfast 34 years ago and has appeared in a string of box office hits including such as Rocky Balboa and Gran Torino.
Now, with husband Conor, she is leading a major fundraising effort to support the work of the MAC in Belfast.
"We wanted to heighten the profile of the MAC in Irish America," explained Geraldine. "We feel like it deserves our efforts and is a place that people need to know about. I think the MAC is a place in Belfast that is overlooked.
"The MAC does some great work, especially around children and bringing people of all nationalities together. It helps encourage inclusivity and hope through all forms of art."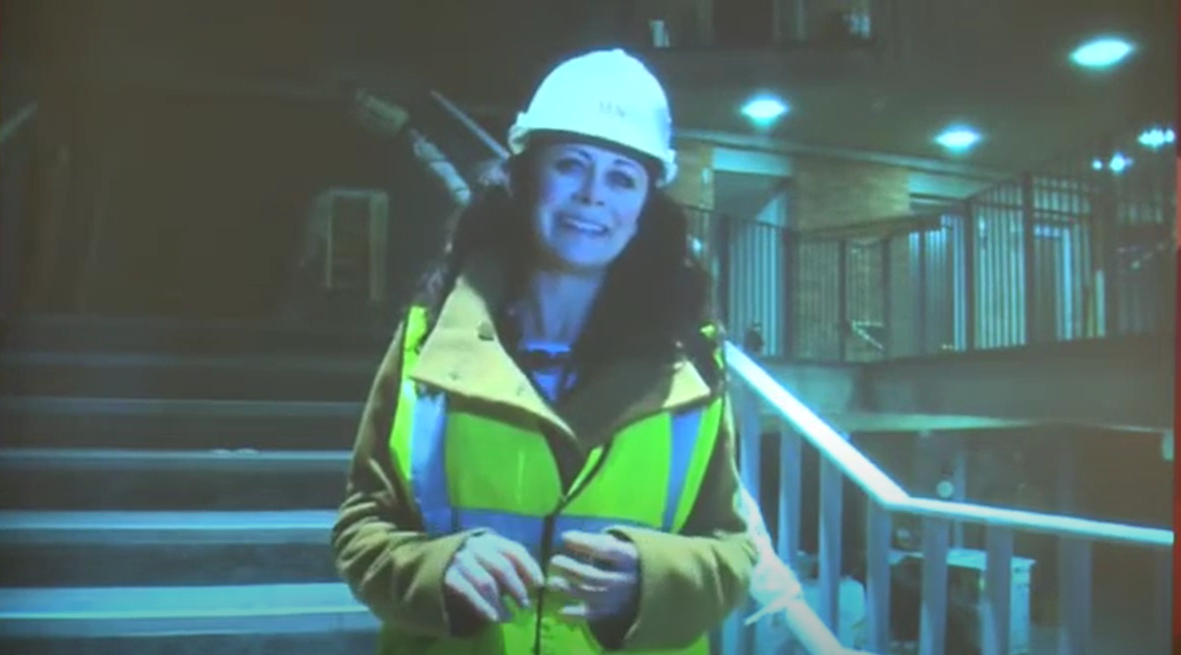 And the screen star, who has recently made two as-yet-unreleased movies in Ireland last summer, says the MAC speaks to the future of the North of Ireland. "The MAC has a clear aim to make Northern Ireland a better place by creating space for people to imagine, enjoy, participate in and create art," she says. "Their work helps to break down old, tired and constraining beliefs. The MAC works because it is full of people – workers, artists, customers and community partners who are deeply committed to helping Northern Ireland achieve its potential."
Added fintech entrepreneur Conor: "I think the peace in the North is delicate and it needs cared for and part of doing that is through art. Art is apolitical and helps bring people together. The MAC also is a place that allows people to have difficult conversations so when we say art, we mean hope. There is so much more they could be doing if they had more funds. Sadly, the arts in Northern Ireland have been systematically de-funded over many years."
Geraldine and Conor's fundraising efforts kick off this week, when they host a reception at their famous Dead Rabbit pub — several times voted the best bar in the world — in New York this Thursday (January 26). It is reported that senior representatives of the Irish and British governments will attend the fundraiser including British Secretary of State for Northern Ireland Chris Heaton-Harris and Irish Consul General Helena Nolan.
A lot of support in the room as @TheMACBelfast launched its new 'Friends of the MAC' initiative, with the help of one of its Inaugural members (and all-round cool gang) @DeadRabbitNYC 🥃 #FOTM #FriendsOfTheMAC pic.twitter.com/lcWGghwf7S

— Anna Poland (@Anna_McD91) January 19, 2023
"It will be a fun evening for people," said Geraldine. "The Dead Rabbit is a popular spot in New York. We look forward to welcoming invited guests. We are hoping to raise as much money as we can. The Dead Rabbit have donated $10,000 and I have donated $5,000. With the help of our friends in the US we Secured peace, and we need their help again now to finish the job by tackling the Legacy of the conflict so that lasting reconciliation can occur."
Readers can support the MAC through the appeal via the Irish American partnership here.
.