Ellison and Sasai through to recurve finals at Archery World Cup Antalya
April 22, 2022
ANTALYA, Turkey – Five-time World Cup Final Champion Brady Ellison has also been on the podium in Antalya for individual finals five times since 2008, including a stage win at the last edition here in 2019. This weekend could see the reigning champion defend his title as Ellison shot his way into the final four in today's matches.
Ellison qualified third, just one-point out of the top spot in a strong field of talent. The rule that previously gave the top eight archers byes into the top 16 was removed this year, which some favor as early matches can help build confidence and experience with the day's field conditions. Ellison outscored the Virgin Islands' Nicholas D'Amour 6-2 in the round of 64, an archer he predicted would be formidable on the circuit this season, Khazakhstan's Ilfat Abdullin in a tight 6-4 match, Chinese Taipie's Su Yu-Yang 6 -2, and then Italy's Mauro Nespoli 7-3 in the quarterfinals, sealing the win with a perfect 30 after a day of strong shooting.
At her world cup debut, 16-year-old Gabrielle Sasai, who represented Team USA at the 2021 World Archery Championships, shot her way to an 8th place finish. The 16th seed upset the top ranked Peng Chia-Mao of Chinese Taipei in a quick 6-2 win in the round of 16, never leaving the gold on a single arrow. In the quarterfinals, Germany's Charline Schwartz stopped Sasai's run for the final four.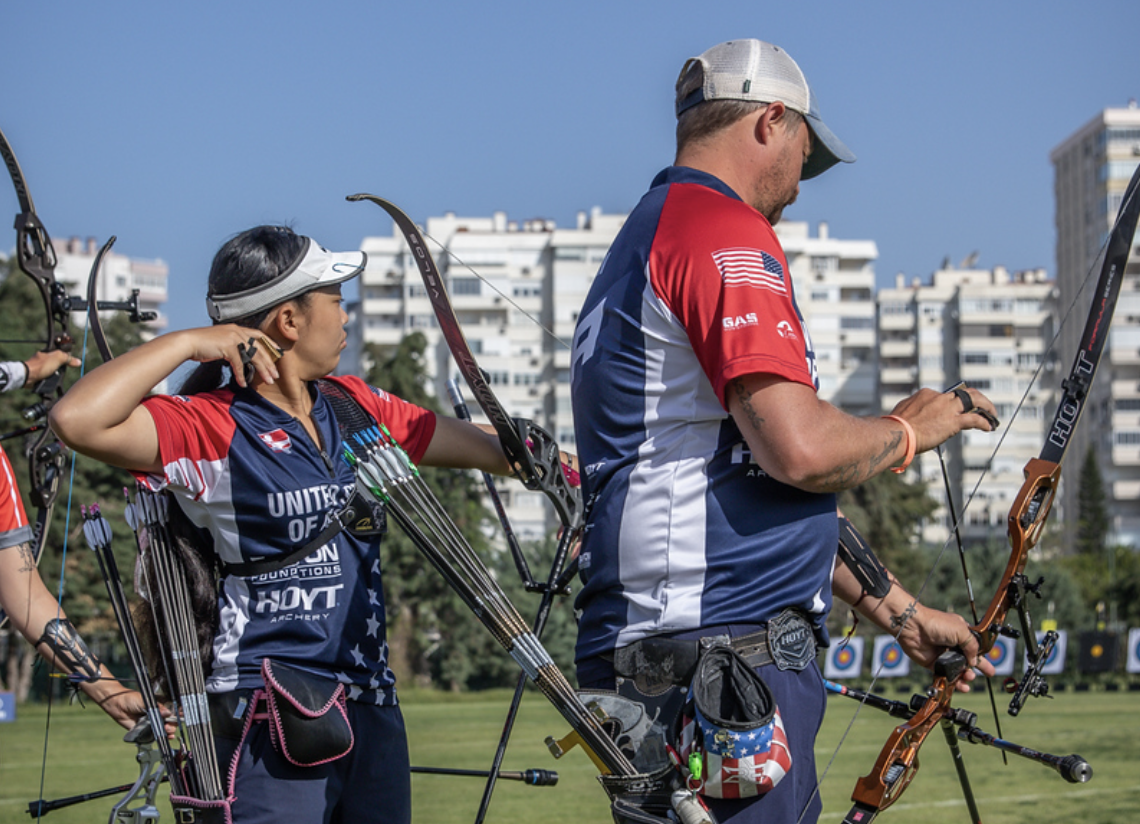 Sasai will have another shot at her first world cup podium in the mixed team bronze final with Ellison. Seeded 7th as a duo, Ellison and Sasai shot lights out scores of 39, 38 and 40 for a quick 6-0 win over the Czech Republic in the round of 16, then took second seed Italy to a shoot off in the quarterfinals. A strong 19 gave USA the win. In the semifinals, shooting with the third ranked team from Great Britain, USA brought the match to another shoot off, but Great Britain took the win and USA will shoot for bronze against the No.8 duo from India.
Earlier in the day, Matthew Requa, Mattew Nofel and Catalina GNoriega finished 33rd in individual matches and the compound mixed team duo of Sawyer Sullivan and Sydney Sullenberger finished 9th.
Competition wraps for team USA Archery on Sunday with the recurve finals, which will be streamed live on www.archery.tv. Results from the competition are available on worldarchery.sport. Photos courtesy of World Archery.