Big Scores Top Qualification at 2022 Arizona Cup
April 02, 2022
PHOENIX, Ariz. – It was a beautiful morning at the Arizona Cup, the largest United States Archery Qualifier Series event in history, as senior and 50+ archers took the field for qualification.
In a tough compound men's field, 17-year-old Sawyer Sullivan made his senior USAT debut, coming up just two points off his U18 world record with a stout 712 in the wind to outscore the Netherlands' Mike Schloesser's 711 and take the top seed . James Lutz was third with 708, while 13 men broke 700 in a tight race.
"I started out pretty nervous today but I found my rhythm," shared Sullivan, who said his legs were shaking and the wind tripped him up a few times. While Sullivan will also make his world cup debut later this season, he said his primary goal right now is just to hang in there with the tough competition in the senior field. "I had a lot of fun shooting with my bale today, we had a really great group and a great time," added Sullivan.
Tough international competition led the compound women; Great Britain's Ella Gibson took the pole with a 711, also just shy of a world record. Toja Ellison, Denmark's Tanja Gellenthien and Paige Pearce also broke the 700-mark qualifying second through fourth with 703, 701 and 700 respectively.
World Para Champion Matt Stutzman continues his hot streak this season topping the para compound men open qualification with a 698; Andre Shebly and Benjamin Thompson finished second and third with 688 and 679 respectively.
Wendy Gardner, Martha Chavez and Chalyn Weaver led the para compound women open, with Gardner's 644 taking the top spot.
W1 World Para Champion Lia Coryell topped a full podium with a 579 – an exciting feat as the division is growing rapidly in the US Jonathan Charlesworth qualified second and Lucas Herro was third in his USAT debut after just receiving his para classification.
On his first USAT event and podium finish, Herro commented: "I wish I would have performed a little bit better, I had some equipment issues on the line, but all in all I think I did a pretty good job." Herro will be back for more this season and said his focus is to send as many quality arrows down as he can and keep improving to take this as far as he can take it.
Young faces topped the women's recurve ranking round; 18-year-old Casey Kaufhold's 674 gave her the top seed. 16-year-olds Gabrielle Sasai and Emma Kim were second and third with 657 and 646; this marks Kim's senior USAT debut after a standout season in the U18 division last year.
"Today was good," shared Kaufhold. "I've mostly been shooting indoors so I didn't really know what kind of score I would put down today. I came in without expectation and it wasn't too windy, so I focused on making good shots and it went really well. I'm really happy with how I shot today. "
Brady Ellison pulled off a 350 first half today and finished with a 687 to top the recurve men's charts, ahead of Matt Requa's 673 and Trenton Cowles' 669. Eric Bennett, Paralympic Champion Kevin Mather and Michael Lukow went one-two-three for the para recurve men open, with Bennett's 616 winning out.
Brazil's Fabiola Dergovics scored a 570 for the recurve women open's top position, 80 points clear the rest of the field. Candice Caesar and Emma Rose Ravish were second and third.
Christopher Garcia led the barebow senior men with a 634. Marcus Cooley and Richard Stonebraker qualified second and third with a 611 and 608. Christina Lyons, Melody Richards and Kay Earls led the barebow women; Lyon's pulled ahead by nearly 70 points, finishing with a 601.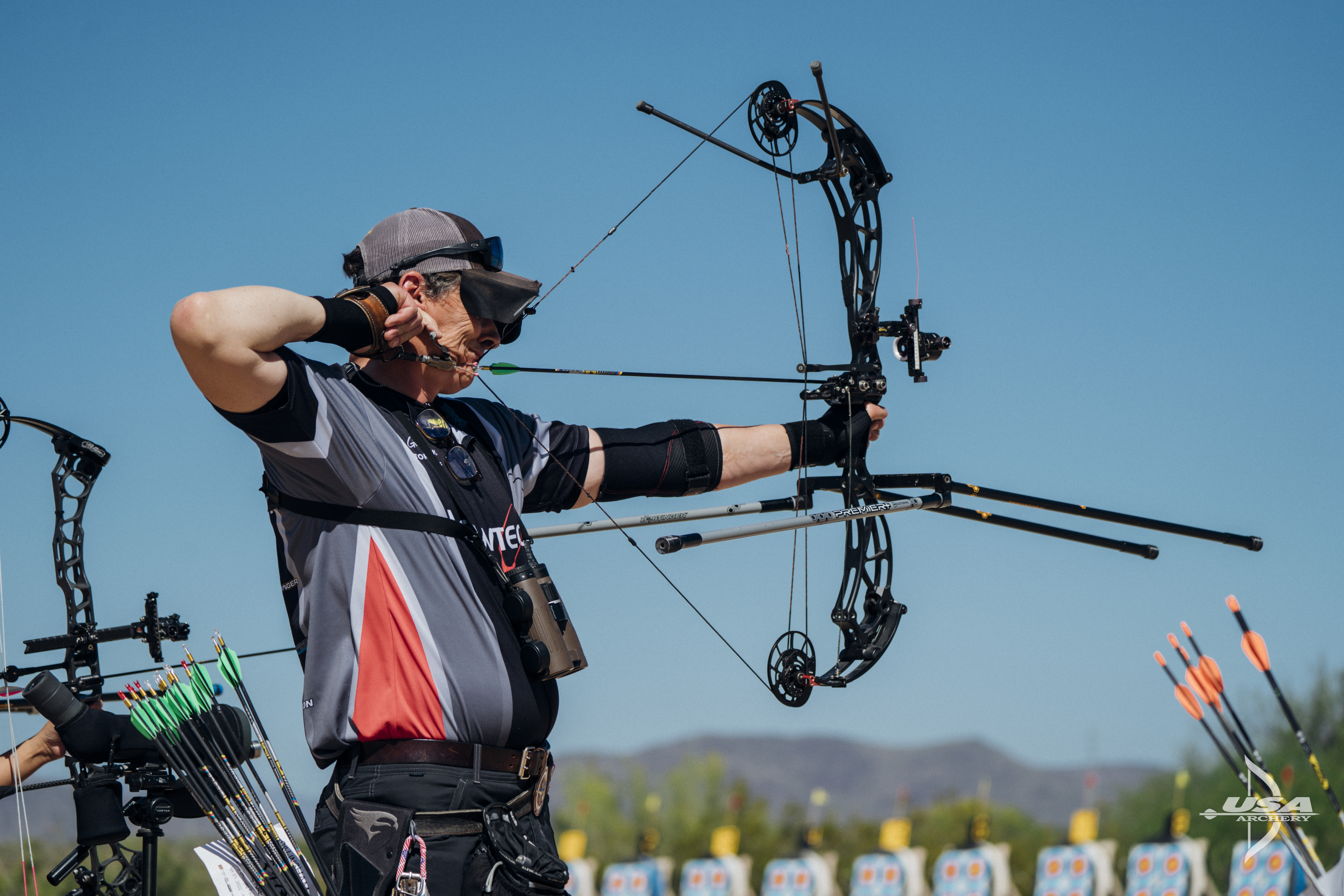 Tim Gillingham had a commanding lead for the compound 50+ men, qualifying first with a 696. Andre Shelby and Larry Butterfield scored 688 and 682 to qualify in the next two spots. Deanna Cronin, who, like Gillingham, dominated the entirety of last year's USAT series, crushed a 683 today to lead the women's division by almost 30 points over Alanna Dunaway and Tamara Fontenot.
The recurve 50+ competition was heated, and Ron Gosnell nabbed the top spot with a 642, just ahead of Matthew Bamberg's 639. Tom Stevenson posted a 628 to qualify third. Nicole Rasor's 612 locked up the top women's spot ahead of Susan Bock's 607 and Janis Grellner's 590.
David Nesbitt and Ben Rogers were close for the barebow 50+ men with Nesbitt qualifying first with a 579 while Thomas Aaron was third. Sabrina Harrigan's 553 was the standout score for the barebow 50+ women over Barbara Carroll and Joy Burkhardt.
Competition continues this afternoon with youth elimination matches. The senior and 50+ archers return tomorrow for head to head matches. The senior gold medal finals will stream live in the afternoon on USA Archery. Complete results from the competition are available on Between Ends and official photos are on USA Archery's SmugMug.