Benefits of Patronizing Your Local Archery Pro Shop
June 30, 2021
By Tanner Seabaugh
Where do you go to buy your archery gear?
In today's world, there is no shortage of purchasing avenues available to the consumer. The internet, box stores, and local pro shops are some of the primary options available to archers. Certainly, the internet is easily accessible and can offer most archers just about anything they could possibly want, although there is the danger of purchasing counterfeit products online – a growing problem. Box stores may also have expansive selections of gear, depending on how serious they are about archery and bowhunting.
So, where does the "archery pro shop" fit into this equation? Maybe the first question should be: What defines an archery pro shop? Truth is, that name can cover a wide variety of businesses. So, for the sake of this article, let's say an archery pro shop is a "local" brick-and-mortar store not affiliated with any national chain, that provides archery goods and services.
Obviously, some of these stores may sell other hunting or outdoor equipment, but they will usually have a dedicated individual or team who is well-versed in archery. It's important to remember that what makes an archery pro shop isn't the "pro" in the name, but rather the level of customer service and knowledge at that shop. Quality shops exist in many sizes and shapes; there is no cookie-cutter definition for a good archery shop. Most pro shops will be able to provide everything you need from the purchase of new equipment to personal coaching, and anything else in between.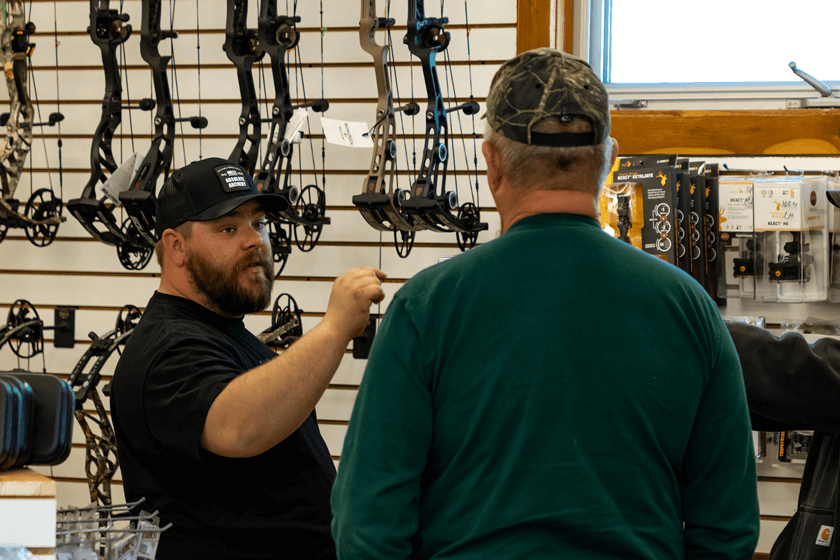 So, what kind of benefits come with patronizing an archery pro shop versus other shopping methods? Truth be told, there are several! Archery pro shops are typically stocked with endless amounts of knowledge and expertise. It is the responsibility of the shop owner and the employees to ensure that they have a high degree of familiarity and expertise with the equipment they sell and the services they provide. Many of these shops offer an unparalleled level of knowledge in all aspects of archery, and they understand that they are constantly learning in order to keep pace with emerging technology. They are often trained by archery manufacturers, making them a competent and reliable source of knowledge on any and all products being sold in their shop.
Another advantage pro shops have is the customer / sales technician face-to-face interaction – something you don't get from a website. The customer can explain his / her needs and wants, while the technician can offer experience-based advice in real time. Obviously, seeing, touching, and testing the particular product in person is a huge advantage. Also, the technician will know what technologies and products are being used by the more experienced and technical bowhunters and archers in your area, and why.
Certainly, customer service is the most important factor to consider when purchasing equipment. Now, I am not saying box stores or the internet cannot provide decent customer service, but archery pro shops, at least the good ones, will often go above and beyond in their effort to assist customers. I know pro shop owners / employees who have opened early, stayed open late, or came in on a day they were closed to repair a bow for a customer in the middle of the rut. I've known shops to provide a customer with a loaner piece of equipment, due to a malfunction, just days before opening day. Quality shops are consistently trying to earn a customer – not just make a sale.
Consider these scenarios. We've all heard the guy in hunting camp talk about experiencing terrible arrow flight with broadheads. We've seen the social media posts from struggling archers who just can't seem to shoot a good group, or read the various complaints on message boards about poor penetration. Whatever the situation, most of these issues are directly related to proper bow tuning.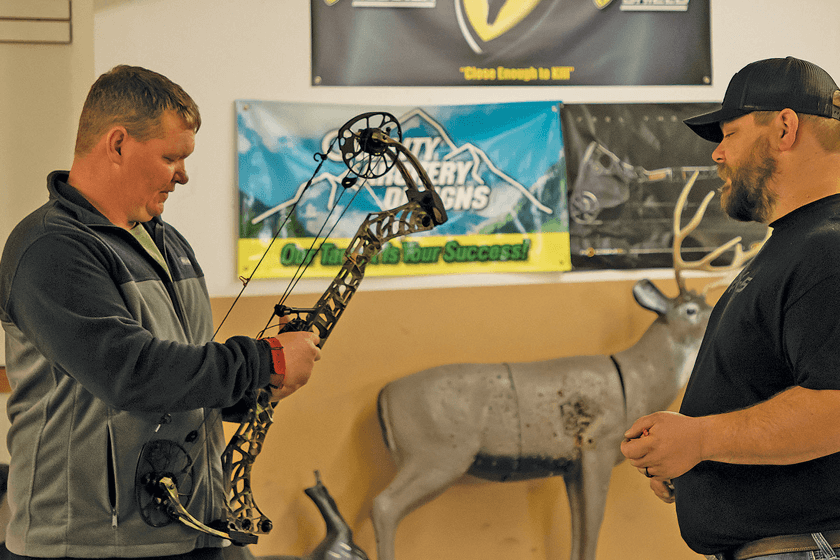 Quality archery shops are accustomed to seeing and fixing these issues. They've seen it all and can provide a level of tuning expertise that can truly take your archery game to the next level. Proper tuning – be it paper, broadhead, or bare shaft – along with many other methods, can be used to ensure your equipment is firing on all cylinders. Those services are often time-consuming and require the kind of in-depth understanding of the equipment you are using that you can only expect to find at a good archery pro shop.
---
---
Tuning runs deeper than just choosing the right bow. Proper arrow selection, for the goals you want to achieve as an archer, is also extremely crucial to achieving high-level accuracy. Pro shops will assist you in making that all-important correct arrow-shaft selection.
Proper form and shot execution are the basis for bowhunting success, and while many of us learned these much-needed skills in the backyard, a quality pro shop can be beneficial in helping you sculpt your form and execution to near perfection through coaching sessions. The benefits of a good coaching session are priceless, and pro shops are there to make sure you are learning the proper way to shoot, as well as making sure the equipment you are using fits you precisely.
Finally, I think we can all agree that the next generation of hunters is important to us all. Pro shops are an integral part of hunter recruitment. We need these places, where kids can go and get properly fitted for equipment, as well as be taught how to use it, so this sport can thrive.
For many youths, a pro shop is where they might find the inspiration needed to become bowhunters or target archers, and oftentimes both. Many of the shops I know of have special leagues or classes geared toward young or new archers. Organizations like NASP, S3DA, Boy Scouts, and Girl Scouts get support from good local shops. These shops sacrifice their own time and money to promote archery. Supporting those who give back ensures we will always have a place where new people – young and old – can learn our sport and continue to help it grow. That's our goal.
Purchasing your archery and bowhunting gear comes with many important decisions. What to buy? What is a fair price? Is it going to accomplish my goal? Will it fit me? Should I upgrade my setup? The answers to these critical questions, and many more, are available at your local archery pro shop. Find a quality shop you trust and support them. You will be glad you did.
The author owns Absolute Archery Center & Range, in Perryville, Missouri.
.