Archery tournament returns to Joplin High School with 47 teams | Local News
After a one-year hiatus because of the COVID-19 pandemic, Joplin High School's Kaminsky Classic Archery Tournament returned Saturday with 47 teams and more than 800 archers.
Levi Butts, head coach of the Joplin archery team, said the tournament has been going on for seven years but was canceled last year because of the pandemic.
"It feels really, really good to be back," Butts said. "The tournament is run by students. We coaches organize and help get it sorted out, but once the tournament is rolling, I'm one guy and my assistant coach is one person too, but we have a bunch of stuff going on and the kids are all running their things. They know what's going on, and they know all their stuff. It feels really good to give them that experience again. "
Sarcoxie took the top spot in team scoring, edging out Locust Grove Public School by three points. Carthage came in third, Joplin came in fourth, with McDonald County, Carl Junction, Webb City, Jasper, Bentonville, Arkansas, and Clever rounding out the top 10 teams.
The top three individual scorers were Gabe Fewin, of Carthage, coming in first with a score of 294 out of a possible 300; Dalton Thorn, of Sarcoxie, second with a score of 291; and Cole Quade, of Carthage, third with a score of 290. Tyler Thompson and Deya Yandell were top scorers for Joplin, each at 284.
Full results can be found here.
Butts said the tournament is one of about eight his team competes in every year.
He said the district also has archery programs at East and North middle schools, but it doesn't have an elementary program, although they'd like to start one.
'A good experience'
Zander Hensley, a senior and one of three captains of the archery team, said he got into the program as a freshman at the urging of Butts.
"I went from not really being able to shoot that well, and with the help from other archers and coaches, it kind of grew on me," he said. "As a captain, I like to think about how I was helped, and I want to be able to help other archers get to the levels they can get to."
Hensley said the team excels because the more experienced students share their knowledge with younger students.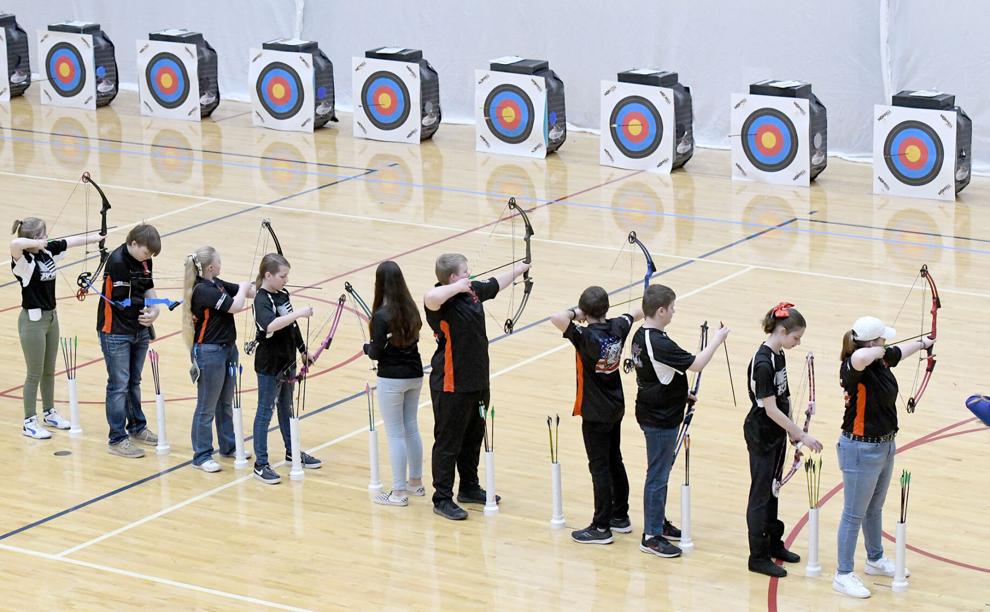 "The first maybe month of being on the archery team is mostly the coaches showing you what to do, but also passing it on to the captains and leadership," Hensley said. "We do most of the coaching now to help better the freshmen or newcomers in general because you can start archery at any grade. It's just a really good experience. "
Skylar Low, a sophomore, said she got into archery as a child hunting with bows, and she's been part of the school's archery program since seventh grade.
"Before I did archery for high school, I did hunting archery and I shot with a compound bow, so coming in and dealing with the Joplin archery bows was a huge change," she said. "Throughout my entire middle school year, I struggled, but I came here, and coach Butts really helped me out. Then I found out that the Joplin Archery Team is willing to help you instead of just leaving you to figure it out on your own. To me, that really meant a lot. Right now, archery is what I'm doing. It's my main pursuit right now, so it really means a lot to my family. "
Ronny Klein, another sophomore, is also a hunter.
"It was definitely a challenge coming from a compound bow to these Genesis bows where they only have the one cam and your weight isn't reduced," Klein said. "So when you pull back, you're holding all that weight, whereas when you're using a compound bow for hunting, which is what I use, it levels out and you can't feel the weight. The no-sight thing – there's no sights – that's a challenge. "
The mental game
Klein, Low and the other students said archery is a mental game as well as a game of skill.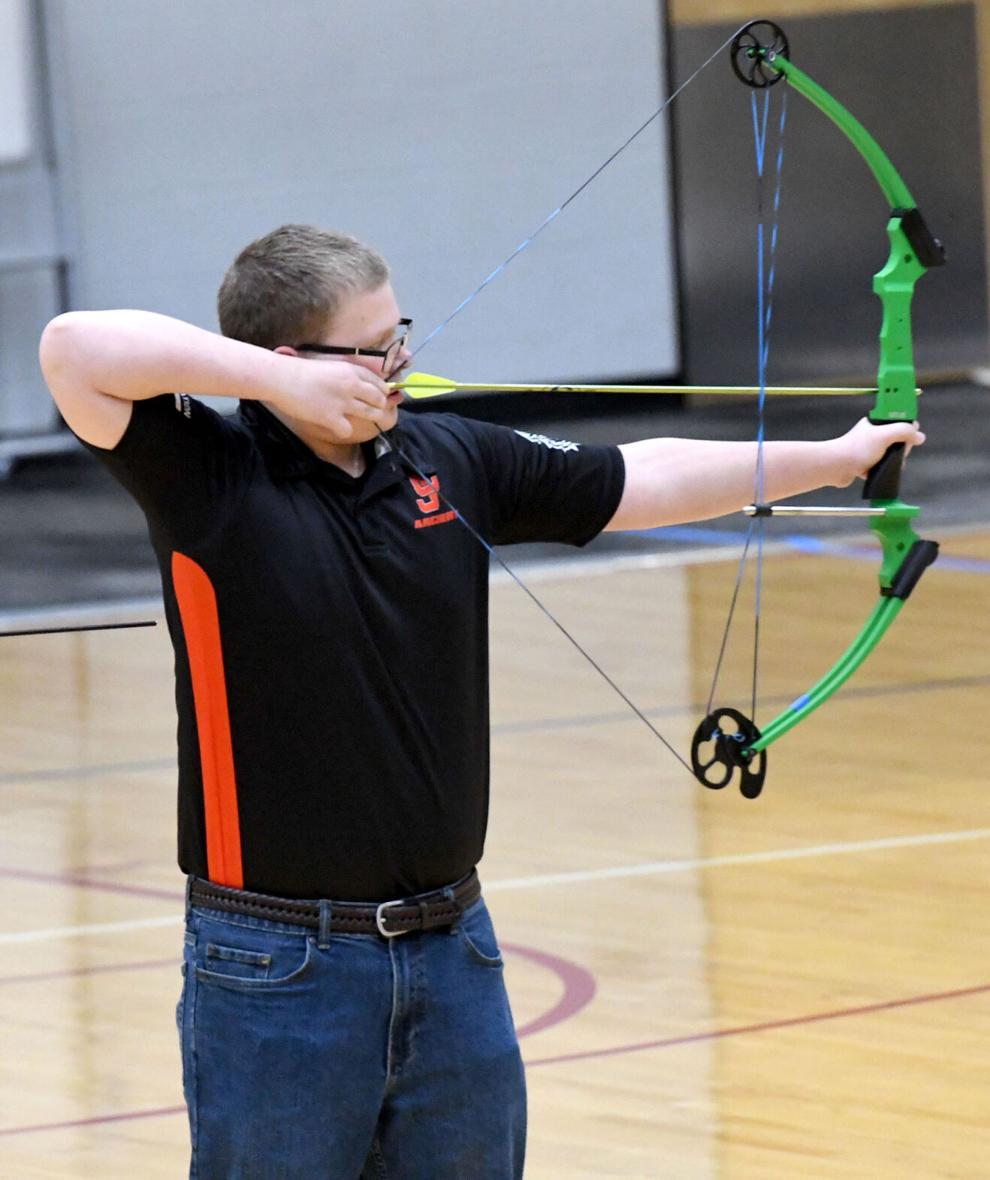 Cylee Gilreath, a junior on the Joplin archery team, said, "I definitely think it teaches self-control and patience. In my seventh through freshman year, I didn't have a good grip in my mental game, and I would get so mad at myself for shooting a bad arrow, then my entire scorecard would go down. But this year, I've learned to take a deep breath, recollect myself, and then I go out there and I can shoot well again because I've learned how to calm down and deal with my mental game. "
"It helps you dial down and focus on your what you're trying to do," said Victor Ramirez, a freshman. "If you're in your end-of-year exam, you can take that stuff you learned in archery, dial down, focus, read the questions carefully and answer what you think is the right answer."
Some of the best young archers in the state come from Southwest Missouri. Sarcoxie and Carl Junction both competed in national championship tournaments last year while Carthage and other area teams have also consistently placed high in state and national rankings.
One of half a dozen perfect 300 scores in Missouri was shot two years ago at Joplin's Kaminsky Classic by a Carl Junction archer, Jeremiah Jones.
"All these tournaments are state qualifiers, and so Carl Junction and Sarcoxie and Lamar, they're all top teams in the state and you play them every week," Butts said. "It's good to see that kind of competition grow and for our archers to get on the line against them. It seems like an impossible feat to get out and do it, and they're shooting by a kid who's going to shoot a 298 to 297 every time. It's pretty cool. "
.