All-Area Boys Hockey Player of the Year: Zam Plante's magical season ends with his mission accomplished – Duluth News Tribune
HERMANTOWN – A little over a year ago, Hermantown junior Zam Plante was stewing over a loss in the state quarterfinals to Dodge County.
Plante was the only varsity player on the ice for the Hawks' 7-3 loss to the Wildcats after the rest of the squad was exposed to COVID-19 during their Section 7A semifinal game against Virginia / Mountain Iron-Buhl.
Plante, a Minnesota Duluth commit, was eligible for the game because of a shoulder injury he suffered against Duluth East earlier in the season and hadn't played in the tournament section.
Despite a herculean effort from Plante, Dodge County's Brody Lamb, a Minnesota commit, scored six goals as the Wildcats eliminated Hermantown.
Plante's shoulder wasn't 100% healed for the game, but Hawks coach Pat Andrews said he played an "ungodly" amount of minutes – more than 40 of the 51-minute game.
"As a mom, I was really concerned about that," Zam's mother Kristi Plante said. "I went into it with a pit in my stomach knowing that he wasn't at 100%, but knowing he was going to give it his all because it was just such a tough time for the team."
In the Xcel Energy Center locker room in St. Paul, Plante made it his mission to return to the team this season and bring a state title home.
"It was unbelievable what he did in that state quarterfinal last year against Dodge County," Andrews said. "He was phenomenal and the whole state got to see it. He took it personally that he had let us down and I couldn't have been more proud of anybody. He didn't let us down at all – he gave us a chance, but he felt like he let us down because he's so competitive. So his goal coming back was to win a state championship. "
Plante and Hermantown returned to St. Paul last month for the state tournament – varsity squad in tow – and picked up the three wins they needed to bring the state championship home.
Plante led the Hawks with 24 goals, including the final two goals in Hermantown's 3-2 win over Warroad in the state championship game, and now he's added Duluth News Tribune All-Area Player of the Year to his growing list of honors.
Hermantown certainly returned a supremely talented team – which included fellow UMD commit and All-Area first-team selection Ty Hanson as well as second-team members Beau Janzig and little brother Max Plante – but the 2021-22 season was anything but a coronation for Plant.
"Zam's compete, his hard work is through the roof," Andrews said. "He worked really hard to get himself back. He played in the Hlinka Gretzky Cup over in Europe last summer for Team USA and did really well… he was playing tremendous hockey when he got back last November and then the third game of the season he gets hurt again. "
After a highlight reel goal to top Benilde-St. Margaret's in the Hawks' season-opener, Plante suffered another shoulder injury in his third game against Wayzata.
"I was coming off the ice against Wayzata and the bench started going crazy," Max said. "Then I looked behind and Zam's sitting there on the ice and he's just mad and you know something's up."
Initially thought to be season-ending, Plante's injury didn't require surgery, but it required more than a month on the bench and a lot of rehab.
"I was like, it's already happened, the only thing you can do is try to get better so when you get the opportunity to come back, you can be the best you can be," Plante said. "It really sucked and I was down for a little bit, but the guys definitely helped me get back up and get back out there."
Kristi, herself a standout basketball player at Duluth East and UMD, said while it's never easy to see your child go through an injury there was a benefit.
"As an athlete you learn a lot being hurt, being on the bench and not able to play," she said. "It motivates you more, but you also see the game from a different standpoint."
Plante listened to his doctors and did the things he needed to do to come back, not just 100%, but perhaps better than before, and while he was sidelined something else happened.
"Once he found out that he would be able to come back, he dug his heels in and worked his butt off to come back," Andrews said. "In the meantime, our whole team got better because everyone had to step up. So now Zam came back to a team that was better and he was motivated and I think it showed at the end. It wasn't a Plante victory, it was an entire team victory. "
'It's all I can remember'
With a Stanley Cup winner for a father, current UMD assistant head coach Derek Plante, and legendary Hermantown coach Bruce Plante for his grandfather, hockey has been a part of the fabric of Plante's life.
"I don't remember a time where I wasn't into hockey," Plante said. "That's what I remember doing… I was born in Germany because he was playing hockey and my life has kind of revolved around hockey since the day I was born. It's all I can remember. "
Kristi said she and Derek were living in a few different apartments when Zam was first born, but right away he had a hockey stick, much to the chagrin of some of their neighbors.
"I remember in the apartment buildings the people below us had a couple of comments because they could hear the stick tapping underneath from where we were," Kristi said. "He's grown up with it, it's really all he's ever known – he was definitely born into it."
Andrews said Plante is clearly gifted, but the natural ability he was gifted with is not the reason he's developed into one of the top hockey prospects in the state.
"He's naturally talented, but he's not a natural talent," Andrews said. "He absolutely works his butt off, he absolutely competes and has worked his skill set through the roof. His hockey IQ is through the roof, but that is literally a result of the amount of time he spends watching and playing hockey. What you see on the ice is the result of a tremendous amount of work and effort and pain and blood, sweat and tears. "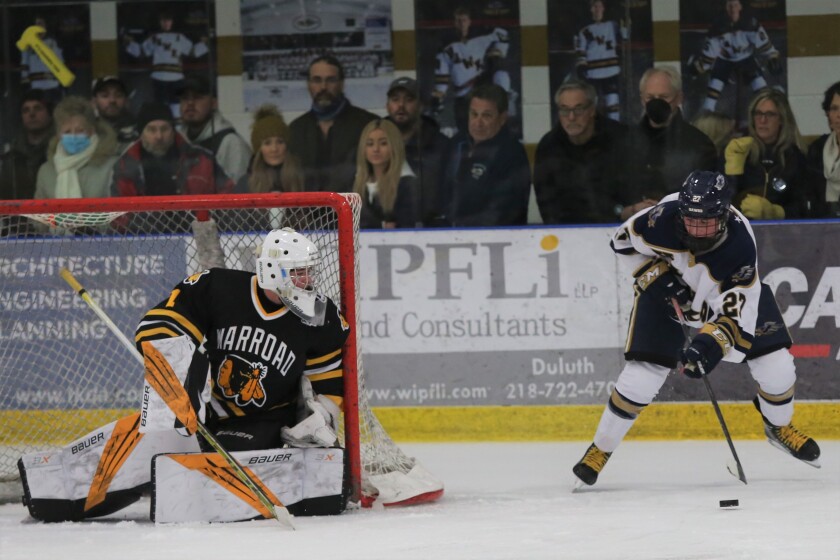 Sometimes Plante's competitive streak means he is demanding of his teammates and coaches, but they know he holds himself to the highest standards, Andrews said, and competitiveness becomes "contagious."
"They understand that Zam is a generational talent and they want to be around him, they want to play with him," Andrews said. "I know they all want to get better and Zam makes them better. Good players want to play with the best players and it doesn't get much better than Zam. "
Plante said sometimes he offers "constructive criticism," but it's always with an eye toward improving and lifting up his teammates, never to tear them down. He also acknowledged their role in what he and the team have achieved.
"I couldn't be here without the guys helping me every day, pushing me to be better," Plante said. "When I got hurt at the beginning of the year, they helped me get better as the season went on. When I got back, they helped me get to the best I can be, so at the end we're state champs. That's all I could ask for. "
News Tribune boys hockey players of the year
2022 Hermantown Plant Weapons
2021 Jack Peart Grand Rapids
2020 Blake Biondi Hermantown
2019 Donte Lawson Greenway
2018 Garrett Worth Duluth East
2017 Micah Miller Grand Rapids
2016 Wyatt Aamodt Hermantown
2015 Nate Pionk Hermantown
2014 Avery Peterson Grand Rapids
2013 Meirs Moore Duluth East
2012 Jake Randolph Duluth East
2011 Garrett Skrbich Hermantown
2010 Adam Krause Hermantown
2009 Max Tardy Duluth East
2008 Jake Youso International Falls
2007 Patrick White Grand Rapids
2006 Tyler Johnson Cloquet-Esko-Carlton
2005 Matt Niskanen Virginia / MIB
2004 Alex Goligoski Grand Rapids
2003 Ben Gordon International Falls
2002 Josh Johnson Cloquet-Esko-Carlton
2000 Aaron Slattengren Proctor
1999 Jon Francisco Hermantown
1998 Adam Coole Duluth East
1997 Dylan Mills Duluth East
1996 Dave Spehar Duluth East
1995 Dave Spehar Duluth East
1994 Joe Golcz Duluth Denfeld
window.fbAsyncInit = function() { FB.init({
appId : '929722297680135',
xfbml : true, version : 'v2.9' }); };
(function(d, s, id){ var js, fjs = d.getElementsByTagName(s)[0]; if (d.getElementById(id)) {return;} js = d.createElement(s); js.id = id; js.src = "https://connect.facebook.net/en_US/sdk.js"; fjs.parentNode.insertBefore(js, fjs); }(document, 'script', 'facebook-jssdk'));